Here's a list of our upcoming workshops. Save the dates!
Connections and Collaboration
Co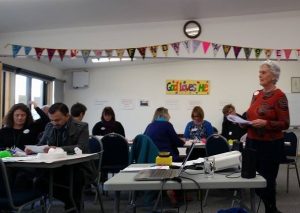 mmunities flourish when everyone works together. This workshop will help you to assess and develop your existing community relationships, and will share strategies for identifying new partners.
Masterton – 24th August, co hosted with Wairarapa REAP.
For more details and to register, see this flyer.
Facilitating Community-led change
Engaging all parts of the community and bringing together diverse people, voices, groups and sectors is challenging.  This workshop will focus on useful approaches, processes and ideas for bringing and keeping groups and teams together, having conversations that really matter – and having FUN.
Dunedin – 13th Sept, co-hosted with Dunedin Community Builders.
For more information and to register, see this flyer.
Leading in Communities
We need leadership from lots of different people, not just from a few exceptional people we call leaders. This workshop explores approaches and tools for thinking, acting and leading in complex situations, where leadership is possible for anyone committed to continuous learning on the job.
Gisborne – 20th Sept, co-hosted with Gisborne Volunteer Centre and supported by Eastern & Central Community Trust.
See this flyer for more information and to register.