Inspiring Communities is an organisation that catalyses locally-led change. Because this achieves sustainable, effective outcomes.
We are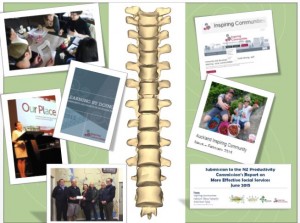 a team of specialists in community-led development. We use our experience and expertise
to mentor, broker, train and connect communities to become even better places to live, work and invest in.
Inspiring Communities is a backbone organisation, we operate across many sectors at multiple levels. We are the reference point for community-led development in New Zealand, building on international and local practice-based evidence to grow and share expertise.
Community-led development is a collaborative approach that enables existing local wisdom to unleash community capacity and build ownership of local situations and solutions. Our aim is to embed this process as it accelerates systemic change and will cultivate sustainable thriving communities in Aotearoa.
Inspiring Communities is working to influence communities as well as public, business and organisational policy to move from narrow 'business
as usual' models to a more adaptive approach that understands and works with complexity.
If we want things to be different, we have to do things differently. Valuing and growing the wisdom that resides in communities ­­generates exponential action – wisdom2.
Our Vision
An Aotearoa where all communities flourish – connected, positive communities with healthy economies.
"Nā tō rourou, nā taku rourou ka ora ai te iwi
With your basket and my basket we will sustain the people"
Our Mission
Creating change through effective community-led development (CLD).
Inspiring Communities was created in 2008  by a small group of passionate New Zealanders who believe that community-led development is critical to New Zealand's future.
To support and strengthen the emerging community-led development movement in Aotearoa we focus on:
Promoting: the understanding and practice of CLD and influencing systems change/public policies at all levels.
Connecting: people, projects and places to share and showcase CLD ideas, knowledge, learning and experience.
Learning: more about CLD, about how positive change is created, noticed and effectively captured,  and continually sharing this to build capacity and strengthen wellbeing outcomes in local communities.
Building: a sustainable and vital organisation, with a mixed source funding and earning base.
Our Goals
Build the profile of IC to accelerate CLD
Grow CLD capability
Enhance IC Organisational capacity
Our engagement with Te Tiriti o Waitangi
Inspiring Communities is committed to a Treaty honouring Aotearoa where people actively participate in shaping their communities.  Te Tiriti o Waitangi is a foundation for sharing power between tāngata whenua and tāngata Tiriti to sustain just and vibrant communities.
See this page for more information.