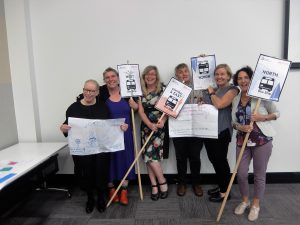 In April we held a hugely successful innovative event. We took people across Auckland neighbourhoods to see first-hand how community-led development is happening across the city. From community sheds and hubs to art, businesses, gardens and stream restoration, local hosts introduced participants to projects, approaches, relationships and success factors that grow resilience and sustainability. On the second day we heard from inspiring speakers and exchanged ideas through the varied and practical workshops.
Activate was a winner! Feedback shows  98 %  gave it either a 4 or 5 out 5 satisfaction rate.  – 98 % of people also rated the content 4 or 5 out 5 for relevancy.
Read more feedback
The key aspects that stood out: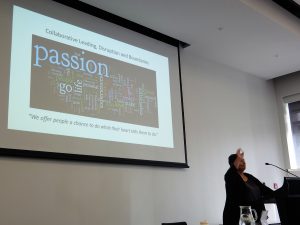 Directly experiencing Auckland communities, most notably through the Auckland bus tours
Workshops, presentations and discussions
key- note speakers in particular the Minister Alfred Ngaro and Brigid Carroll on adaptive leadership
What people learnt:
Sharing of knowledge
Leadership
What community led development means- and the different levels of CLD
The forming of relationships, working together and sharing support
Seeing what other regions and cities have achieved, and bringing that home to share within their own communities
Refresh their way of thinking, reconnect and collaborate with existing contacts
Expand contacts, reach a wider group of people
Put the knowledge and skills into practice
Be more involved, be at the fore- front by experiencing it directly (bus tours)
Inspirational and encouraging talks
Challenge the status quo
Local and regional CLD work shops
Coaching and mentoring
Seminars and conferences
Networking
Online forums and platforms
Here are some of the images from Activate, watch this space! The presentations and a photo gallery are on their way.

Day one: Discover
Venture out across Auckland neighbourhoods to see CLD first hand.
Choose one of four study tour buses and venture out to see first-hand how community-led development is happening across the city. From community sheds and hubs to art, businesses, gardens and stream restoration, local hosts will introduce participants to projects, approaches, relationships and success factors that grow resilience, sustainability and relevant local development that is driven by and works for local people.into the neighbourhoods of Auckland
Buses will head to the North, South, Central-East and West. There is so much to show you!
Spend that night relaxing over dinner, reflecting on the day and harvesting learnings together as well as having some fun. You'll meet all sorts of people who are working in community-led ways!
Pick one tour from the four options available:
Day two: Ideas Exchange
Share what you know while learning new tools, skills, proven ideas and much more.
The ideas Exchange  builds on the projects and approaches you visited on Day One by sharing tools, frameworks, skills, stories and ideas proven in the Aotearoa context that foster successful collaboration, leadership, partnering and assessment. With workshops being run by people working from te ao Maori, Pasifika and new Kiwi perspectives with a wide variety of purposes and activities, you will be refreshed by people, ideas and approaches that, maybe, don't usually cross your path.
And, for the most part, it's a hands-on day so you go home ready for action and with some new connections and ways of working to adapt to the energies and aspiration people have in your place.
The day begins with an optional pre-hui conversation at Jet Park at 8am – (details to come) with the formal proceedings beginning at 9am when we hear from our first keynote speaker Auckland City Councillor Penny Hulse.  Her details as well as other keynote speakers you'll hear from throughout the day are below.
Have a look at what's on offer in our  workshop sessions – start thinking about which one you would like to attend. (you can sign up for these on the day)
Keynote speakers:
Penny Hulse Auckland City Councillor 
Local Government + Community = Success
Councillor Penny Hulse represents the Waitakere ward and is Chair of the Environment and Community Committee.
She brings 25 years of local government experience to the role having first been elected to the Waitakere Community Board in 1992 before being elected Chair of the Board in 1994.
In 1995 she was elected as a Waitakere City Councillor and as a Trustee of the Waitakere Licensing Trust.
Since then she has served as Chair on a range of committees including the Healthy City Committee, Environmental Management, City Development, Community and Public Health Committee. She was Deputy Mayor to Sir Bob Harvey from 2007 until 2016.
She has been instrumental in helping build the West, and understands the area and people. Penny has strong links with her community and cares passionately about the Auckland region. She served two terms on the Waitemata District Health Board, is currently a Director of West Auckland Trust Services and an elected member of the Waitakere Licensing Trusts. .
Her community involvement includes Patron of Waitakere Special Olympics, Community Waitakere Charitable Trust, Henderson Riding for the Disabled, The Trust Waitakere Brass Band, Northern Football Association, Trustee of Swanson Railway Station Trust, Waitakere Anti Violence Essential Services and former Director of EECA Board.
Penny's special areas of interest are Climate Change, Sustainable City Development, Environmental Advocacy, Community Development and Youth Empowerment.
Penny is a keen cyclist and has been commuting to the CBD from Te Atatu peninsula by electric bike since the opening of the Nelson Street Cycleway in December 2015.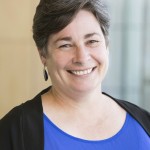 Associate Professor Brigid Carroll – Director of Research at the New Zealand Leadership Institute based at the University of Auckland Business School.
Who wants to Lead? Collaborative Leading, Disruption and Boundaries
Brigid will explore how community-led development relies on collaborative leadership and that operates in what has been termed a "shared-power, no-one-wholly-in-charge world" (Eden & Huxham 2001).
Yet collaboration is rife with power, identity and learning dynamics! This requires the kind of leadership that is adaptive and with the capacity to bring disruption, hold imbalance, guide flux and find a place where tensions can be productive. This keynote will outline the key principles, mindset and practices required by community leadership as it moves towards innovation.
Brigid Carroll  leads and supports research activities and is co-architect for design and delivery of the leadership development programmes at the Business School.
Recently she led a research initiative focusing on leadership in a collaborative leadership incubator in a community not-for-profit sector. Amongst the numerous internationally published books and articles she has co-authored the books Responsible Leadership: Realism and Romanticism and Leadership: Contemporary Critical Perspectives. Brigid is also an Associate Professor in the Department of Management and International Business at the University of Auckland Business School.
Inspiring Communities would like to thank the New Zealand Leadership Institute and the University of Auckland Business School for supporting Brigid to speak at Activate.



Inspiring Communities would like to thank Auckland Council for supporting Activate