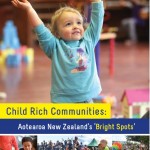 Check out our Bright Spots webinar; we examine 3 lessons that emerged from the Bright Spots report.
Lizzie McMillan from Wesley Action Waitangirua and Jenny Jurgens from Whanganui CBK provided great case studies to demonstrate these learnings in practice.
Please read and share our Child Rich Communities Report . This was commissioned  with UNICEF, Plunket and Every Child Counts. The report showcases community-led development initiatives that make a difference for children.