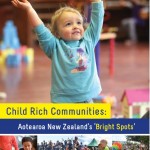 Child Rich Communities is a movement aimed at improving child wellbeing through community led development.
Project History
In the past few years, there has been increasing concern about child poverty in New Zealand. The agencies behind this project noticed that the responses to struggling children tend to fit within two strands of work – lobbying and advocacy and targeted intervention by Government, NGOs and the private sector.
Both of these strands of work are important.
However, there is another strand of work that is not always so visible, but is equally important – there are many people working in community-led ways throughout Aotearoa New Zealand. And this work is improving the lives of children and their families.
The aim of this project is to connect and learn from these 'Bright Spots' and build support for the role of community led development in child wellbeing.
In early 2015 the organisations – Inspiring Communities, Plunket,  UNICEF and Every Child Counts came together to begin a project to explore local community initiatives that are making a positive difference to children and families.
First step: The report – Child Rich Communities
To kick start this project a report was commissioned to explore Bright Spots across Aotearoa New Zealand. A total of 21 initiatives ranging in size and scale, age, geography and entity type were engaged to learn more about their success factors. Stakeholders from philanthropic and government sectors were also interviewed.
Child Rich Communities full report
CRC Briefing for Government Stakeholders
What we did next: Bright Spots Hui
Following the release of the report the project team asked Bright Spots if there was interest in continuing to grow the project. The response was positive, so a hui was organised in November 2016 for the Bright Spots to get together. The aim was to continue learning from one and another and discuss where to from here for the Child Rich Communities project.
The hui was a fantastic day of story telling, learning and connecting. At the end of the day a set of actions were agreed to guide the next steps. There was clear desire to grow community-led ways of working through:
More funding for community led development groups and initiatives
Participatory democracy in local communities
Community mentors to help in child rich communities methods/practice
Supporting parents and families e.g. support to enable parents to be home with their children longer
Where we're at now: Growing Child Rich Communities
Gratefully we have received funding from S.K.I.P to resource some of the actions from the hui. The funding enables us to hold three new webinars, three regional training workshops and set up four new regional 'communities of practice' aimed at peer-led support for those active in the community-led development/child wellbeing space.
While this new funding is specific to these activities, we're keen to continue work on the wider aim of the project to raise awareness, deepen understanding and promote the role of community led development in child and family wellbeing.
Watch some of the Bright Spot communities
Check out locals leading change in their communities – hear their stories and share their insights into the rewards and challenges of using community-led approaches to support children and families.
About community led development
Randwick Park Bright Spot Story
Check out our Bright Spots webinar; we examine 3 lessons that emerged from the Bright Spots report.
Lizzie McMillan from Wesley Action Waitangirua and Jenny Jurgens from Whanganui CBK provided great case studies to demonstrate these learnings in practice.