Participatory democracy has been Jim Diers' preoccupation and his career for the past 40 years.
In his work with grassroots community organisations, the largest health care cooperative in the US, Seattle city govern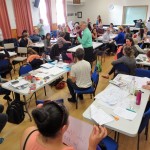 ment and communities all over the world, Jim has found ways to get people more involved with their communities and with decisions and actions that affect their lives. You can read more about Jim in Aotearoa and visit Jim's website. 
Inspiring Communities is pleased to host Jim. He can offer workshops, presentations, masterclasses and consulting.
You can co-host a Masterclass with Inspiring Communities 
Here's an opportunity for local people who are ready for action to co-host a Masterclass with Inspiring Communities and Jim Diers during 19th – 30th September 2016.
The Masterclass will:
contribute to the development of confident, skilled practitioners to better enable ideas into action
generate useful information and pathways for the contributing host community.
This opportunity is to co-host a course for practitioners (volunteers or professionals) from a wide range of situations who want to further develop skills in community building and community action. It will include learning and practicing techniques of visioning, asset mapping and activating and be developed in conjunction with local communities, so the findings of the workshop can be used locally.
Practical outcomes include upskilling individuals, gathering local information from the participating community (asset maps, creative public interaction, community conversations and mobilising as decided in partnership with the local community), as well as progressing several local projects.
Or Bring Jim to Your Place 
Jim is available to work to work with yo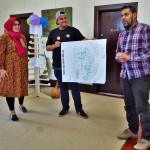 u and your community building efforts in your place – during 19th – 30th September 2016.
He will share insights and approaches that will inspire and motivate your community-building activities. He works with governments, NGOs, community associations and other networks on topics like:
Mapping and mobilising a community's strengths
Ensuring inclusive community engagement
Building genuine agency/community partnerships
Neighbourhood matching funds, bottom-up planning, community gardens, little city halls and other award-winning programmes
Mobilising the power of community to revitalise neighbourhoods and business districts, prevent crime, promote health, care for one another, sustain the planet, and demand accountability and social justice
"It was such an informative and exciting exercise, touching base with the community and looking at our community issues from their perspective. Was awesome and inspiring!"
a previous workshop participant
To find out more about all these opportunities, including dates, how you can host Jim and costs email Inspiring communities' Denise Bijoux