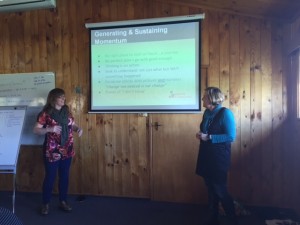 In order to deepen the practice of community-led development we tailor training resources and packages.
These include:
Skills-focussed half day, full day and multiday workshops for resident leaders and practitioners, policy-makers as well local government personnel
Bespoke information that draws on our written resources and experience
Mentoring and coaching practitioners as they deepen their CLD practice
Co-creating in-house capacity-building programmes with large organisations.
In one such example we have co-designed a multi-year learning and development programme with a government agency, for a team of 100 managers and staff. They are learning to embed community-led   thinking and approaches into their work throughout Aotearoa.
We have developed a set of core competencies based on our research and our vast knowledge of cutting edge CLD practice. Here's some of these competencies, which can be clustered as required, or taught in modules:
Working together in communities
Facilitating groups and inquiry
Generating and sustaining momentum
Supporting neighbourhood-led development and engagement
Noticing change and understanding contribution and impact from CLD efforts
Leadership in communities
The Inspiring Communities can tailor training, mentoring, support packages to your needs – contact us to discuss what you need.