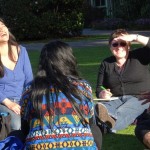 We have a number of CLD skills workshops planned around Aotearoa in 2018 – check them out. Contact us if your place isn't listed but you would like us to run something in your community.
Inspiring Communities is a team of specialists in community-led development. We use our experience and expertise to mentor, broker, train and connect communities to become even better places to live, work and invest in.
We are a backbone organisation, we operate across many sectors at multiple levels. As the reference point for community-led development  in New Zealand, we build on international and local practice-based evidence to grow and share expertise.
Community-led development is a collaborative approach that enables existing local wisdom to unleash community capacity and build ownership of local situations and solutions. Our aim is to embed this process as it accelerates systemic change and will cultivate sustainable thriving communities in Aotearoa.
Inspiring Communities is working to influence communities as well as public, business and organisational policy to move from narrow 'business as usual' models to a more adaptive approach that understands and works with complexity.
We can tailor training, mentoring, support packages to your needs – contact us to discuss what you need.
Training and Mentoring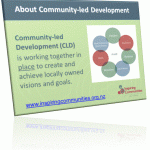 In order to deepen the practice of community-led development we tailor training resources and packages.
These include:
Skills-focussed half day, full day and multiday workshops for resident leaders and practitioners, policy-makers as well local government personnel
Bespoke information that draws on our written resources and experience
Mentoring and coaching practitioners as they deepen their CLD practice
Co-creating in-house capacity-building programmes with large organisations.
We have developed a set of core competencies based on our research and our vast knowledge of cutting edge CLD practice. Here's some of these competencies, which can be clustered as required, or taught in modules:
Working together in communities
Facilitating groups and inquiry
Generating and sustaining momentum
Supporting neighbourhood-led development and engagement
Noticing change and understanding contribution and impact from CLD efforts
Leadership in communities
Inspiring Communities has Community Coaches available to support you. Our Coaches have experience and expertise in CLD approaches – they will work with you to understand what's working, what's not – figure our why, and what you might next do next.
Events
Inspiring Communities runs a number of events across Aotearoa every year. We bring speakers from across the world and Aotearoa to your place.
We run workshops, training days, boost camps and we work alongside communities, agencies, academics and organisations co-hosting conferences, seminars, master classes – in fact anything that strengthens community-led development in New Zealand.
Find out about our upcoming events