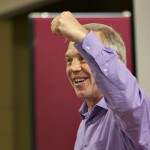 US Neighbourhood Power Champion Jim Diers is coming back!  We're looking forward to 'activating Community' with him – hosting a number of regional workshops during 2017.
We're starting with two workshops in March for the Top of the South and Canterbury. We've designed a two day workshop that is for community volunteers and professionals who have some understanding and experience of community building and want to develop their skills further.
The Activating Community workshop is broadly based on process of appreciative inquiry and offers techniques and tools for community building, including:
• understanding and generating community readiness for action
• creative and interactive asset mapping
• community visioning and renewal processes
• utilising design thinking; and
• activating teams and communities into action
• strategies for addressing community develop
• practical examples and learning from international, national and local communities
Programme Highlights Day One:
at the workshop venue
• Why community building?
• Voices from host communities
• Who are our neighbours?
• The power of community
• Appreciative inquiry
• Using what we have already – mapping assets and strengths
• Getting ready for a treasure hunt
Programme Highlights Day Two:
out in local communities!
• Engaging neighbourhood voices
• Out on the streets – information gathering and community engagement in nominated local communities
• Building a collective picture: now what do we have?
• Visioning and design thinking
• Framing and developing projects and action
• Pulling it all together – what have we learnt, what do we do next
Read about our Activating Community Workshop Facilitators
Here's the details for the Top of the South workshop March 20-21st
Click here to register for Top of the South Workshop 
Here's details for the Canterbury workshop March 22-23rd
Click here to register for the Canterbury workshop
Registration for Canterbury coming soon!


Thanks to Nelson City Council and Rata Foundation for helping bring our Activating Community Workshops to Nelson and Christchurch.
If you have any questions please contact us