 Are you an effective facilitator of community-led development processes? This important skill is often not recognised, formally or informally. However exciting new developments in education now mean a Community-led Development (CLD) Facilitation qualification is possible.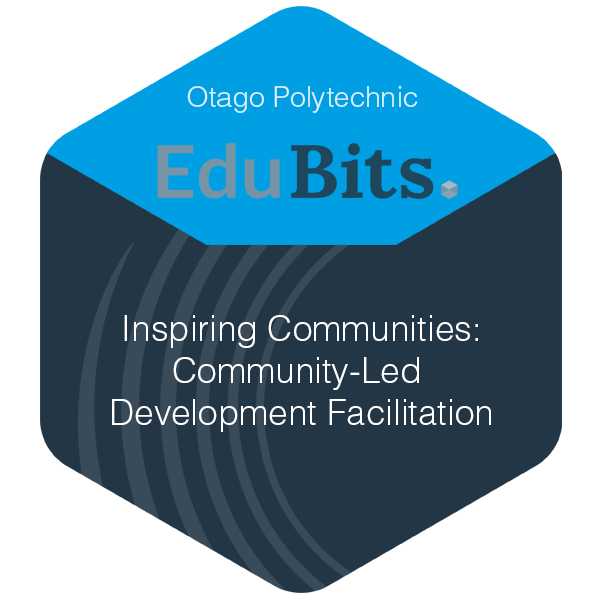 Inspiring Communities have partnered with Otago Polytechnic to provide a CLD micro-credential that enables you to bring together, reflect on and share all you have learnt about CLD.
This "mini" qualification validates that you have the competencies to plan and facilitate community-led development processes, hui, meetings and workshops – for a diverse range of groups – and to critically reflect upon your own practice.
It is more than simply something to add to your resume. The qualification process is also designed to strengthen and support the effectiveness of your CLD practice.
---
Frequently Asked Questions
WHAT PRACTICAL CLD FACILITATION EXPERIENCE WILL I NEED TO TAKE PART?
If you can draw on at least one situation where you have used your skills to help facilitate a CLD process, hui, meeting or workshop, and this shows experience in bringing people together, facilitating groups and coordinating local action – this mini-qualification is for you.
HOW MUCH TIME WILL I NEED TO INVEST?
It's hard to say! Everyone is different. Most of your time will be spent preparing your own Portfolio of Evidence (20 – 40 hours), based on a case study of your CLD mahi (50 – 80 hours) in your community that you were already doing. This is equivalent to a level 5 qualification worth 10 credits (a full time year of study is usually 120 credits).
You work at your own pace to put your portfolio together.
WHAT DOES MY PORTFOLIO OF EVIDENCE NEED TO INCLUDE:
background information about your CLD facilitation experience and current role(s)
a case study for one CLD process you have facilitated
attestations from participants and a peer, mentor, supervisor or manager
supporting documents that provide evidence of your facilitation process, outputs and/or outcomes (for example; agendas, minutes, action plans, community newsletters, reports)
thoughts related to your case study in light of what you have learnt through feedback, your own reflections and readings
a plan for your future CLD facilitation practice
WHAT COSTS ARE INVOLVED?
There is a $199 (incl. GST) evaluation fee associated with the qualification, payable upon submitting your portfolio. If this cost is a barrier for you, consider including this activity within a grant application for professional development support – or apply to Inspiring Communities for one of our five scholarships available.
WHAT SUPPORT CAN I EXPECT?
This is a self-directed learning process, but we highly recommend you join a free Inspiring Communities online, facilitated learning group to work alongside others completing this qualification.
Our learning group will meet on the first Monday of every month, 1 – 2pm, starting in March 2021. If the Monday is a public holiday, the session will be held on the Tuesday.
Please register your interest via the link below to receive a Zoom link invitation. We look forward to connecting with you!