← Resources
Leadership
Growing the leadership of everyone
This resource provides ideas, examples and reflective questions from a Leadership as Learning framework developed from community research in Aotearoa. We acknowledge in particular Margy-Jean Malcolm's expertise in putting this together.

The Inspiring Communities team were key research contributors, sharing what they were noticing about leadership in CLD spaces and what needs to be in place to grow the leadership of many, not just the few.
Ehara taku toa i te toa takitahi. Engari, he toa takatini
Success comes from the strength of the collective, not of the lone individual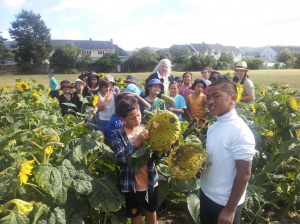 Community-Led Development (CLD) works to grow the leadership of everyone. Leadership is collective work, harnessing everyone's diverse strengths for the benefit of the wider community. Leadership in CLD is a dynamic process of thinking, engaging, acting, learning and adapting – using many different approaches and skills for different situations.
Yet often we don't even think of ourselves as leaders – and that can limit our potential to fully engage as active citizens. We often assume, for example, that leaders are highly competent, extraordinary individuals who lead out front and gather many followers. Such thoughts can fuel our inner fears about never being good enough. Put those fears together with our values around humility, and we can end up with few people wanting to assume the leadership mantle.
Active citizens are..

People who take an active role in their community – e.g. as a good neighbour, a community group member, a volunteer, an activist speaking out on public issues or being on a local Council or Community Board. There are many little and bigger ways to be active!
So what if we instead put curiosity and learning at the centre of our understanding of leadership? What if we saw leaders' role as creating the conditions for everyone to play a part, rather than expecting leaders to know or carry everything? This resource is designed to help you:
Question any of your assumptions about leadership that might get in the way of you being an active citizen, taking more initiative in your community
Identify some common foundations that help encourage the diversity of people, pathways, projects and processes supporting effective CLD
Work with the tensions around constant change and adaptation
Consider what you can do to grow

your own leadership
the leadership of others around you
the leadership of organisations you work in
the leadership of communities you live and work in