Weaving our Strengths forum report
We thought you'd be interested in our report from the Weaving our Strengths forum, which we curated, on 24th May 2018, working alongside co-hosts the J R McKenzie Trust and the Office of the Children's Commissioner.
Th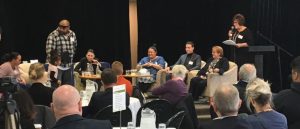 e J R McKenzie Trust and the Office of the Children's Commissioner invited a range of stakeholders from the children's sector, government, philanthropic sector, service providers, community groups and those with lived experiences to a one-day hui in Wellington, on reducing child poverty and improving child wellbeing. The day was managed and curated by Inspiring Communities. The day aimed to:
strengthen relationships and encourage people to work together to identify solutions and opportunities to overcome what causes and perpetuates child poverty
create an environment to better understand a range of experiences and perspectives of child poverty and child wellbeing, and
inform work on child poverty reduction and the development of the Child Wellbeing Strategy, and encourage participants to engage in the consultation.
See the full report here.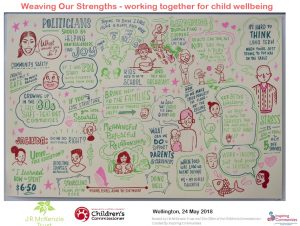 See illustrations and photos from the day here.