 How to get community conversations started
What do you need to know and why? Strengths-based questions to help you decide on your vision, actions and ways of working.
What do you need to know and why? Here are a few examples of powerful questions you might choose from or adapt. They are strengths-based and reflect an Appreciative Inquiry approach. They help us clarify our why – purpose or vision, what – actions people have energy for, and how – how people will work to draw on the strengths the community already has.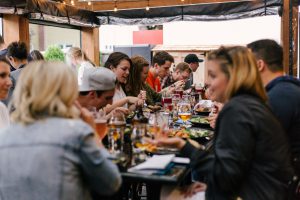 The kinds of questions you ask can have a big impact on the way people engage with you, the type of information you gather and on the involvement or action that follows. Strengths-based questions bring out community pride and help identify assets for addressing challenges. These questions invite conversations about community issues that need to be addressed, but don't start by focusing on a problem or on something that's missing.
Closed questions generally elicit yes/no responses. The more open-ended your question, the more powerful they are in triggering deeper conversations and encouraging people to think more creatively. As a result, new possibilities emerge and often provoke next questions.
We want to begin a conversation and grow a relationship. We want to gather information, but we are also building trust and together exploring possibilities for future engagement.
Examples of powerful questions
Choose a few questions to get community conversations started that are fit for your purpose.
What we already have
What makes (name of our place) a great place to live, work and play in?
What do we love about this place e.g. about its history, culture, physical/natural environment, people, facilities, etc?
What's happening?
What matters to people?
What is working well? And how?
Who are key people helping make it a great place?
Our future aspirations
What would make (name of our place) an even better place to live?
How do we get more of the good stuff?
What are your hopes and dreams for this place? E.g. if it was the coolest neighbourhood for you and your whānau/family to live, work and play in, what would it look like/be like?
What needs to change? Why?
Making it happen
If together we could take action on one thing to strengthen this place/community, what would be most important to you?
What could we do?
Two years from now, if we had been successful, what would you see?
What opportunities do you see?
What do people have energy for?
How will we do it?
How would you like to be involved?
What would you love to be part of?
What's important about how we work together?
What are doable next steps?
Who else in this space might be interested in helping us?
How can we draw on what we already have here?
If you'd like to know more about designing your own powerful questions, see this resource on how to design your own powerful questions.
Other useful resources
Use the active listening checklist as a tool to help you or your group review what needs to be in place to have engaging conversations with the people you talk to, and check this tool to help you brainstorm ways to reach out to a diversity of people, in fun creative ways.
Here's some further information about mapping community assets and strengths and Appreciative Inquiry as a strengths-based approach.