 Putting pen to paper is all about creating partnering agreements that work, specifically between local and central government. This resource gives guidance to those entering into new multiparty relationships and highlights some current challenges and opportunities related to developing and implementing partnering agreements in New Zealand.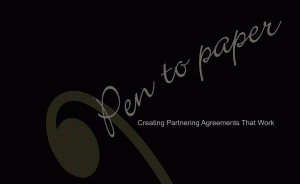 The Putting Pen to Paper series was produced by The Department of Internal Affairs in 2007 and other stakeholders to offer guidance on putting partnering principles into practice.
The first report focuses specifically on
the development of inter-agency partnership agreements
guidance for those entering into new multi-party agreements
briefly analysing key opportunities and challenges to date (2007)
Putting Pen to Paper, split into sections, so you can choose the most relevant parts for you.