National Action Plan for Community Governance
The community sector (NFPs, charities, NGOs and community groups) provides so much for our country.
This Action Plan aims to contribute solutions to the pressures and opportunities that present themselves from a governance point of view across the community sector, and thereby strengthen the sector to continue to deliver vital services, now more than ever.
Funding for Change in Ōtepoti
To be able to do their mahi, the community sector relies on funding. During the first lockdown, Mātāwai Consultancy and Dunedin Community Builders surveyed the Ōtepoti Community sector to find out more about challenges and strengths related to their funding.
This report is hoping to contribute to meaningful conversations about funding for the community sector regionally and nationally.
Improving intergenerational outcomes
When social and economic development meet.
Local wisdom and leadership are fundamental to achieving sustainable development regionally and nationally. But how do we achieve this in reality?
Barbara MacLennan, a founding member of the Inspiring Communities team, has been actively involved in Eastern Bay of Plenty locally-led social and economic development initiatives for well over a decade.
"It's been clear for a long time that these must be closely linked, and that transformational and sustainable development depends upon leadership from Iwi and all sectors in our communities. Covid-19 has starkly illustrated the capability and strength of local communities where we live, work, play, and care for our most vulnerable. There's an urgent requirement for central government agencies to shift from the conventional settings, and radically rework the "reins" in ways that empower, resource and enable local and regional leadership and innovation. This shift, to work more "in service" to communities, will increase the chances that Aotearoa's recovery can progress to transformational and sustainable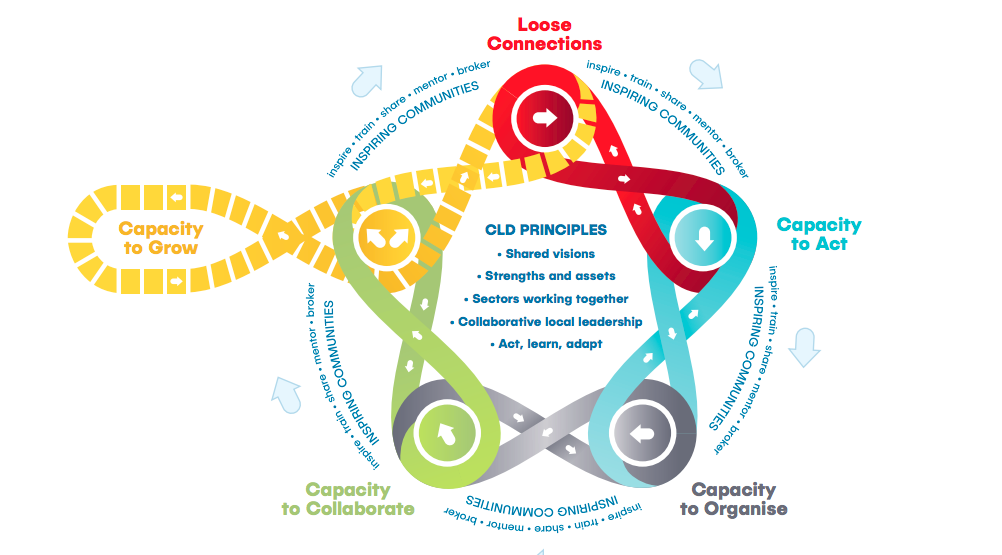 We need to use frameworks that are developmental, minimise silos, enable collaboration and improve productivity change.
Shaping the Future
The Covid-19 Crisis has again sparked discussion about doing things differently so that our communities and country are more resilient. Harvesting and sharing community-led knowledge is a core function of Inspiring Communities. During May and June, we are talking to a selection of CLD and sector leaders with an interest in CLD.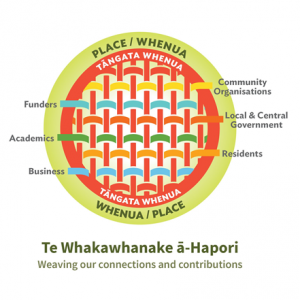 Community-led development (CLD) strengthens communities by activating and weaving the wisdom and contribution of everyone connected to a place/whenua.
From this, we will frame a Community-Led Insights Report with key recommendations, and practical suggestions for how our local, regional and national systems can more effectively support and enable community wellbeing.
As a heads up, here are our key planks that should be prioritised to nudge the layers – shifting the system towards transformation. Of course, community-led change is not a quick fix, it's a long-term game!
The change required to enable CLD in post-Covid Aotearoa
People first. Value and invest in effective relationships. It is people, connections and trust that make things happen.
Invest. Fund locally-led action. Support processes and capability building that grows local capacity.
Decentralise. Provide flexible funding and decision-making processes at regional and local government levels where iwi and communities are at the table not just being consulted.
Embed and evaluate. Include the 4 wellbeings (social, economic, environmental and cultural) in all recovery-focused initiatives. Report their outcomes. What we focus on grows.
Build Social Capital. Understand the power and potential of relationships, leadership and action at an individual, neighbourhood, and rural scale.
Be courageous. Mandate innovation and learning. Complex challenges require creative responses to see what works. Be responsive to change, test and adapt.
Collaborate. Partner with others, maximise resource and reduce risk.
Three initiatives Inspiring Communities put forward for government consideration
A Community Resilience Fund to invest in locally-led community resilience planning and action. The fund leverages contributions from local government, other philanthropic funders, iwi, local businesses and local communities. Explore relationships with existing Provincial Growth Partnership and other Government investments.
Decentralised Innovation Seed Funding to catalyse community enterprise and resilience activities. Enable regional managers of relevant government agencies (DIA, MPI, MSD, MoE, OT) to make immediate small investment calls (up to $5k) to support promising, early-stage, local initiatives focused on building social capital, community enterprise, and resilience activities.
A cross-agency CLD training and support programme. Provide officials across central and local government agencies with the know-how to support community-led action.
These initiatives integrate community wellbeing and facilitate Government to work more effectively with communities. The principles of Te Whakawhanake ā-Hapori ki Aotearoa, Community-led Development in Aotearoa help navigate how this can be achieved.
Creating Magic – Margaret Jefferies
On January 13th, 2020, Margaret Jefferies died and NZ lost one of its community-led development legends. Margaret played a key role as Chair of Project Lyttleton and in introducing Timebanks to NZ and other 'local living economies' like Savings Pools. She was passionate about engaging everyone's strengths and diverse voices. She used approaches like Open Space and Appreciative Inquiry to facilitate community conversations around shared community vision and fun, collective action.
Late last year, Inspiring Communities worked with Margaret, Leadership in Communities (LinC) in Christchurch and some of Margarets' Project Lyttleton friends to make a film with Margaret about her wisdom, journey, and legacy. We are grateful for all those who made this possible and all the insights Margaret has shared with us about her way of leading in communities. She encourages us to step into our own magnificence and power, to be bolder, to observe and 'fan' where the energy is, and to embrace life's fun, chaos and adventures. But mostly she encourages us to put love at the centre of our mahi. Such timely wisdom for our current situation!
Thank you, Margaret, for inspiring community-led development locally, nationally, and internationally. Your legacy is an extraordinary gift to our work – past, present, and future.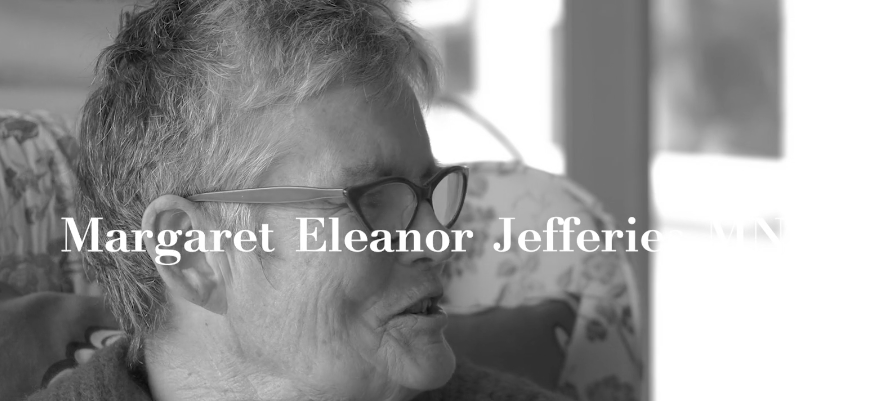 Evolving our Systems
What role does community innovation play?
Despite how appealing the old normal appears to many now, we know that it wasn't sustainable, and this crisis created the conditions for evolving our systems.
READ MORE
We need to think about what we value and what we want to keep.
While we affirm what we want to keep – we have to opportunity to decide what we can let go.
The COVID-19 catchphrase "we're all in this together" is one we need to strongly adopt as we collectively work through the big decisions we need to make.
This notion directly aligns with community-led development (CLD). A 'shared vision' is one of CLD's core principles, and we've always viewed CLD as an essential asset that must be activated to ensure Aotearoa is a thriving, inclusive and resilient place.
We need to focus our attention on HOW we do things and WHO matters.
An outstanding element of New Zealand's affective response to COVID 19 has been the community's response. The cumulation of leadership exercised at all levels, from our Prime Minister, government officials, academics, business leaders, and scientists – to people in streets and within their household bubbles.
We are seeing and experiencing hundreds of instances across the country where people have mobilised and driven the support required in their place, shaped by the guidelines provided by such leadership. The local community has become a critical setting.
But is the value of this critical community-led approach fully understood?
Let's take the example of Meremere locals, who quickly came to terms with the consequences of level 4 lockdown in their town, providing essential provisions – food and sanitation parcels – while also looking ahead to what's next.
Meremere is self-organising, using opportunities and their connections between one another and into Government, philanthropy and other support organisations to both respond and plan ahead.
This is often the case – local knowledge and wisdom about what's needed and what works 'at ground zero' leads in crisis response. However, the risk is that at some point 'the outside system' may take over and that valuable local leadership, foresight and capacity are lost.
Our once in a generation opportunity.
The COVID-19 crisis has forced us all to be courageous and innovative. To take risks and share more power with local communities. This can be harnessed to make the necessary fundamental changes to the political, economic, social, cultural and environmental systems for the health of our planet. Entrenched systems which for so long have hampered our best efforts to tackle big issues like child poverty, climate change, youth unemployment and family violence – they need to adapt!
Localism, participatory democracy, authentic cross-sector engagement and collaboration, citizen empowerment, and strengths-based ways of working are just some of the approaches that need to become front and centre.
Long-term regional restoration will require more than a focus on a limited view of the economy and big investments in 'shovel ready' physical infrastructure projects. Retaining and further embedding a holistic wellbeing lens into policy, planning, and investment is essential!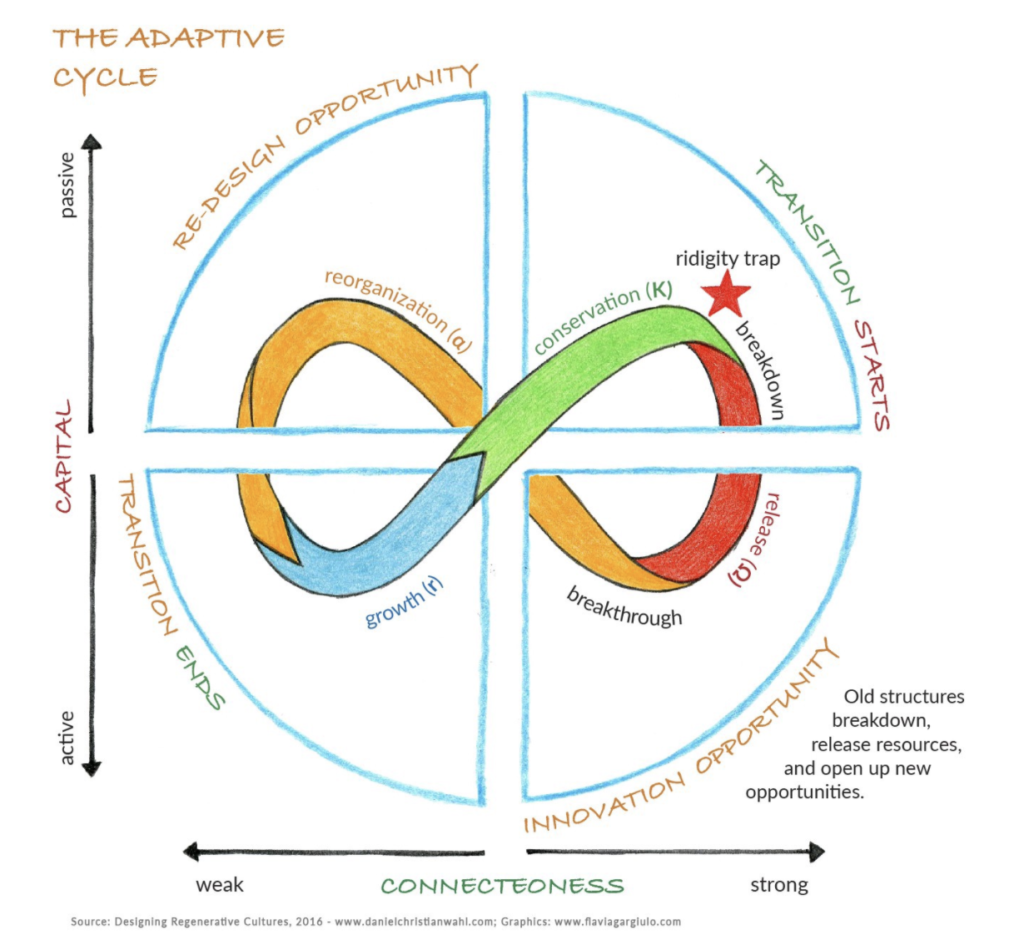 This eco or adaptive cycle is a very useful framing for thinking about these opportunities ahead of us.
While central government clearly has a significant influence on resources, policy and regulation, the choices, actions, and decisions we make as individuals, families, businesses, iwi, councils, churches and communities also determine the outcomes that will follow.
Inspiring Communities has our part to play. We want to ensure that locally-led insights, evidence and intelligence around what works – and what Aotearoa should do differently – is gathered and amplified at this critical time of transition.
We are all part of the 'system'
Thoughts and perspectives from Inspiring Communities' Strategic Lead, Rachel Roberts and National Coordinator, David Hanna.
Kindness and Manaakitanga – Donna Provoost
Pulling together to strengthen our communities and improve child wellbeing.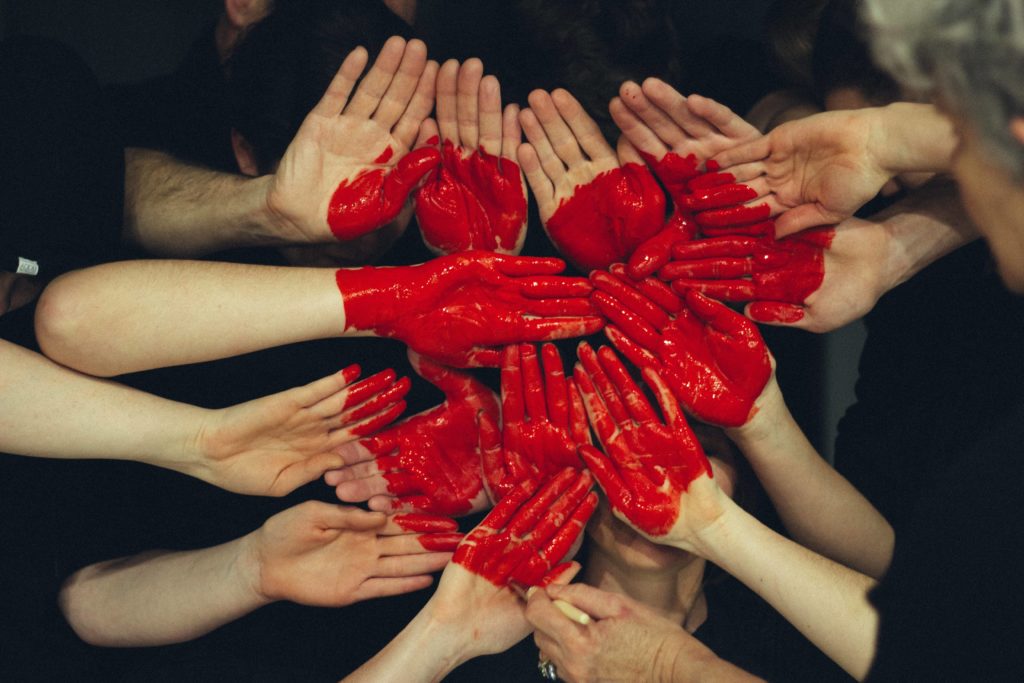 Wellbeing research has documented the importance of family and key trusted adults in children's lives to support building their sense of belonging and identity.
We want children and young people to be accepted, respected and connected.

This is a vital part of their sense of identity and belonging that builds strong protective factors, helping children deal more effectively with stressful events and supporting their wellbeing. In fact, it is one of the six outcome areas of the New Zealand Child and Youth Wellbeing Strategy.
Researchers have spent a lot of effort looking at why children don't develop a sense of identity and belonging. One aspect is the community and social environment that children experience every day. Micro-aggressions are brief andcommon, daily verbal, behavioural and environmental communications that transmit hostile, derogatory or negative messages to exclude and marginalise others.
This phenomenon has been widely studied in its contribution to racism and socialexclusion, where many small hostile acts build a sense of exclusion and hate. Could a different community and social environment, one where many small acts of kindness, respect and care are directed at children and young people, build their sense of belonging, inclusion and love?
Wellbeing research has documented the importance of family and key trusted adults in children's lives to support building their sense of belonging and identity. The limited research on the broader environment suggests that casual interactions with others in their communities does send powerful messages to children.
Community development research also points in this direction. The Inspiring Communities 'quadrants of change' tool suggests four dimensions of change to consider — personal, relational, structural and cultural. The personal attitudes, behaviours and actions of individuals are important on their own, and can also influence the ties, connections and trust in the community (relational) and the culture of the community.
The research and evidence from these different disciplines all points us toward small acts of kindness, respect and care for others — brief and common daily verbal, behavioural and environmental communications that transmit kindness, inclusive and positive messages to others.
Kindness, respect and care for others is central to the Maori concept of manaakitanga. This also aligns with English concepts of benevolence, and is part of what is needed for children and young people to feel accepted, respected and connected in the New Zealand Child and Youth Wellbeing Strategy.
Kindness, respect and acceptance from many people can send re-enforcing positive messages in our communities. When these positive messages are targeted at children and young people, this will help demonstrate our value in children as taonga (treasures with inherent value), and support them to feel manaakitanga (kindness, respect and care) for others.
Community kindness is an action we can all take to build this sense of belonging and more inclusive communities. This moves beyond 'random acts of kindness' — non premeditated, inconsistent actions designed to offer kindness towards others. Community kindness is premeditated, consistent and targeted to those who are most likely to have weak sense of belonging — including children and young people.
Reflecting on our current verbal, behavioural and environmental communicationswith children and young people will be a start. From there, we can set community-wide goals to transmit kindness, inclusive and positive messages to children each day.
We want children and young people to have a strong sense of belonging and connection — these are important protective factors that supports their wellbeing. And the power is in each of us, through our causal interactions with children and young people everyday, to demonstrate our care and acceptance, and welcome them in our community and society.
Community kindness is a solution to improving child wellbeing that we all can participate in, every day.
Donna Provoost is Director of Strategy, Rights & Advice with the NZ Children's Commissioner, and Chair of Inspiring Communities. Donna is currently in the USA on a Harkness Fellowship, investigating ways to improve child wellbeing by promoting their sense of belonging and identity.
Reflections on Community Change
TWO COUNTRIES, TWO PERSPECTIVES, ONE VISION FOR MOVING FORWARD
A paper co-authored by Megan Courtney, Inspiring Communities and Liz Weaver and Sylvia Cheuy, Tamarack Institute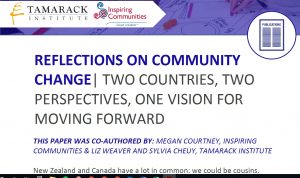 In 2018, Inspiring Communities and the Tamarack Institute in Canada celebrated 25 collective years of supporting community changemakers.
Over the years the two organisations have kept in touch through the exchange of ideas, people, and projects. While we have forged different paths, our shared journey is similar and crosses often.
To mark these mutual anniversaries, we decided to collaborate on a paper and a webinar to explore the following four themes:
The frameworks each organisation deploys to drive forward change
The importance the authentic engagement of citizens plays
The need for adaptive and flexible leadership in community change
The emergence of community-based innovation

The paper concludes with a shared vision for the future.
—–
Read the paper
Reflections on Community Change
—–
Watch the webinar
Megan Courtney and Liz Weaver reflect on 25 years of collective wisdom in community change from Canada to New Zealand. Based on their experiences, you'll hear about some of the most important shifts in the community change landscape and what that means for your own initiatives. Most importantly, Megan and Liz provide insight into challenges, themes, and principles that they believe will affect the next decade of community change work. Watch the webinar.
—–
Learn more about the Tamarack Institute here.
I've been thinking…
A blog from Inspiring Communities' Megan Courtney – August 2019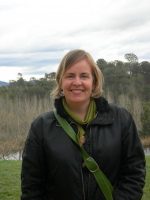 Last year I was invited to join a small group of courageous leaders to convene a community conversation that asked – "what went wrong and what did we learn, so that other communities might benefit from our experience." I use the word courageous deliberately because this is a brave thing to do.
In my decade of supporting CLD nationally, this was the first time I'd heard of or been part of a such an intentional learning process. Promoting and sharing what's working is easy. Trying to respectfully mine and harvest from multiple truths, perspectives and deep hurt isn't.
Not everyone invited came but those who did had the chance to share their observations on the great and the not so, as well as reflect on what Taita's experience might mean for CLD more broadly. One of the outcomes from the day was Great Start – Reflections and Learnings from a Final Kitchen Conversation. The longer paper is well worth a read. While it provides no simple reasons or answers, helping craft it really got me thinking.
One thing that stood out from reflecting on Great Start's Journey was how outdated our model of community governance really is – especially when it's applied narrowly to CLD. We typically see effective community governance as the small group of people mandated to meet monthly and give approval for what's happening in an organisation or community project. They're there to give legitimacy and keep things safe. Handing the Great Start initiative 'back' to the community (local residents) to manage and govern was seen as the right thing to do – but was it?
If CLD is all about maximising community participation, reaching out to voices not normally heard, recognising everyone as a potential leader, enabling local expression of Te Tiriti principles, valuing distributed leadership, encouraging new collaborations, changing power dynamics and bravely innovating in real time, why do we still see that a small group of elected (or appointed) local resident leaders as the right form of governance for CLD? I don't think it is. It's time to generate and trial some new approaches and we don't have to start from scratch. We can lean on learning and experience from:
Fundholders currently supporting locally-led initiatives in Aotearoa with a range of admin (eg. financial, employment) and light touch strategic support.
If you've been thinking about this I'd love to hear from you too!
Megan Courtney is a founding member of the core team and a co-director of Inspiring Communities.

Me Mahi Tahi Tātou – Working Together
This workbook was written after two Auckland CLD initiatives partnered with Inspiring Communities to trial a Leaderful Communities Workshop process. Called Me Mahi Tahi Tātou – Working Together, it explored community leadership as well as how to build collaborative leadership skills and capacity.
A number of insights were identified over the four sessions which have formed the workbook Me Mahi Tahi Tātou:
Diverse backgrounds and experiences brought diverse expectations
Common aspirations include learning new skills, gaining a better understanding about leadership and meeting others from their communities in similar situations.
Using lots of local examples helps make it real for people
Inspiring Communities Publication, Learning by Doing has a chapter dedicated to Leading in and leaderful communiites