 Co-design of Poutokomanawa – A place for whānau in the heart of Manurewa
For the renovation of Manurewa Plunket Family Centre in 2017, Plunket took this opportunity to actively work with Auckland Council's 'The Southern Initiative' (TSI), and partner with local whānau to achieve the aspirations of the community, to make progress towards more positive outcomes for tamariki and their whānau.
TSI brought to this project their vast knowledge and experience in developing innovative experiences within South Auckland, with whānau at the centre of co-designing and testing solutions. Plunket brought staff and volunteer insights, community and parent connections, and Plunket data and research. This was a chance for Plunket to use a whānau-centred approach, with whānau voice, strengths, needs and lived experiences being the primary driver.
In engaging with whānau, Plunket and TSI found whānau want a safe and welcoming space they could visit during the day while away from home, as an effective way to connect with other whānau. These drop-in centres are places for parents whose home environments may be inadequate, unhealthy or unsafe – these are the whānau needs Plunket were committed to addressing.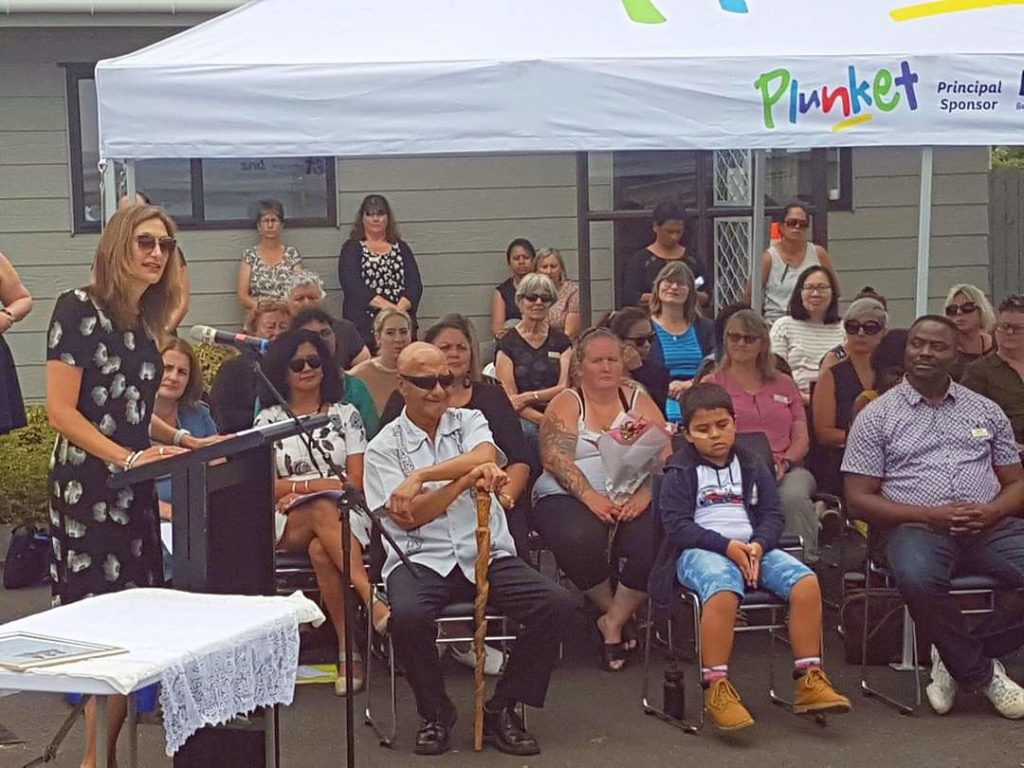 What's different?
The co-design of Poutokomanawa incorporated a whānau centred co-design approach that is based on Māori methodology and principles. The core principles of this approach are:
Manaakitanga – hosts whānau in a way that empowers them, and removes barriers for participation
Whānaungatanga – builds meaningful relationships in culturally appropriate ways and engages in ways that form trust
Tino Rangatiratanga – gives whānau autonomy over how and in what way they will participate
Mana – Ensures a balance of power and acknowledges that whānau are experts in their own lives
Ako – Learnings are mutually reinforced
The process had four stages:
Frame – clarifying the challenge and key focus areas
Explore – developing new perspectives and insight by connecting with whānau
Imagine – generating new ideas with parents and stakeholders
Test – testing new ideas and prototypes in a low cost, low risk way
The key to this shift was identifying the challenge or the need and thinking creatively about the range of possible responses.
We engaged with local whānau not only in Manurewa Plunket but also in local venues such as the supermarket and library, with a clear aim of linking with whānau who Plunket are not connected with. The whānau priorities identified for creating spaces that enable parents to nurture and create better outcomes for their children were about having:
A closer connection between whānau and staff
A safe place for tamariki where parents can have a break
Facilities for baby changing and washing, and accessible kitchen facilities.
Outcomes
In March 2019 whānau were invited to offer feedback. They described the centre as bright, peaceful and positive, and as a place of healing and learning, with better visibility and accessibility. Further improvements were suggested by whānau and these have been built into ongoing quality improvement.
Feedback from Plunket staff identified that more whānau are attending group sessions and clinics, so consequently, more clinics are now available at the centre. This has also built staff capability: they are more open to new ideas and support creative and innovative approaches. The co-design process has gained attention from other Plunket teams who are looking to renovate their space
The outcomes that emerged from the co-designing of Poutokomanawa included:
Whānau are empowered to co-design and decide what should be offered in the space.In utilising a whānau-centred approach the whānau needs are met.
Whānau are more connected to support networks in the wider community of Manurewa.
Plunket staff, and staff work alongside whānau in Manurewa have gained a better understanding of the importance of whānau lived experience and strengths
Plunket's Manurewa Family Centre is a warm and welcoming space that meets the needs of whānau.
Key Learnings
In this project, Plunket staff worked in new ways by prototyping on site and supporting the integration of whānau voices into the design of the renovation.What is also evident is that whānau are keen to contribute to the design and use of such spaces, and whānau are critical to making the space work to meet their needs and can help with strategic and operational challenges. Staff also require capability-building around whānau-centred design and practice.
What now?
The new focus for the Manurewa Plunket team are:
To sustain the positive changes and develop deeper relationships with whānau in order to assist whānau to meet their immediate needs, reduce stress, and build confidence and capability.
For staff to focus on whakawhanaungatanga on site, including regular team connections and to continue having conversations with whānau, the Manurewa team, with Plunket more widely and with external stakeholders
To keep connecting whānau with each other and with community supports, encouraging Manurewa whānau 'champions' to feel ownership in the space, to welcome and support other whānau.
This initiative has provided an example for Plunket staff to co-design with whānau as partners, to achieve their aspirations.
We have learned what is required to move from spaces that services are delivered into, to spaces that hold and nurture whānau.
We are about to apply a co-design approach with whānauto the redesign of Powhiri Avenue in Whangarei and Kingston St in Auckland.