 Inaugural Boost Camp a Huge Success!
"My biggest learning was looking for strengths in others, and how these can be knitted together so that everyone is free to grow." – Boost Camp participant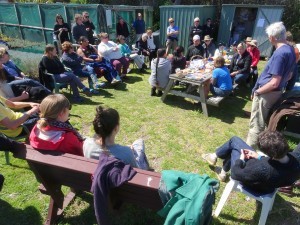 Working on leadership skills and the mix of listening and hands on learning are just some of the positive outcomes participants at our very first Boost Camp pinpointed after spending two days at Tatum Park, Levin recently.
The idea to run Boost camp was in response to our research last year, Strengthening Neighbourhoods in Aotearoa which identified the need for more training, learning and connecting opportunities. It prompted the Inspiring Communities team to think about how we could creatively package and share what we've been learning about working at neighbourhood scale.
Held from Friday evening to mid-Sunday afternoon Boost Camp was all about connecting local leaders and wisdom around what works and enables neighbourhood-led action to thrive.
A diverse mix of 32 neighbourhood people, armed with heaps of passion, came together from lower North Island communities. They brought and traded their knowledge about time banking, community gardening, supporting and connecting local families, creating local hubs, promoting community safety, growing local leaders, sharing local assets, encouraging generosity and transforming local environments.
We learnt from each other and were also inspired by amazing catalyst speakers. Trent Hiles from Gap Filler reminded us what's possible when you just get on and do things – and then invite people in to use and be part of locally created spaces and places. We also learned from Dave Tims about building and connecting local people and their assets – from the street up – in Randwick Park, Manurewa.
We worked on ourselves, our leadership skills and made plans for what we will do next back in our local communities. And if that wasn't enough, there was a bonfire, a crazy flying fox and Sunday morning site visit with passionate Waitohu Stream Care Group members at Otaki Beach. Not only was their dune restoration programme impressive, so was their baking!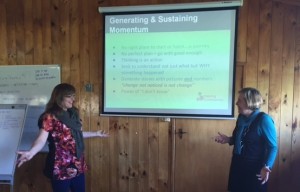 For Boost Camp facilitators, Denise and Megan, it was a great first up learning experience too. "Boost was about creating an ako-ako space where we're all teachers and learners. Everyone participated 120%. The fact that 92% of attendees gave Boost a 4 or 5 out of 5 (very satisfied) rating shows us we have a valuable learning process that many communities can benefit from", says Megan.
Here's a sample of participants' comments
"I loved the mix of listening and hands on learning"
"The speakers were amazing and provided good examples of who, where and how things are already working around the country."
"I loved the opportunity to talk in small groups and having enough free time to network informally."
"I've learnt more about sharing leadership, giving space for others to lead and grow and appreciate the value of play in providing opportunities for people to come together."
Denise says Boost Campers also offered some really useful suggestions for making the next one even better. "We want to take these ideas and feedback to further develop the Boost programme and offering. Ideally, we'd love to run four Boost Camps in and with different New Zealand communities in 2016″.
Check out images from the weekend on our facebook page
If you're interested in learning more about Boost please contact Megan:Megan.Courtney@inspiringcommunities.org.nz
PS: if you're looking for a fantastic community friendly workshop or conference type venue outside of Wellington, we totally recommend Tatum Park. They have a range of accommodation options, massive grounds and their customer service is top knotch!