 Staying on the Edge – Reflections from Darwin
Our CLD Coordination and Practice Lead, Megan Courtney, shares her experiences at the World Community Development Conference in Darwin, June 2023. Reflecting on indigineous leadership, the progress and growing commitment to Te Tiriti o Waitangi and decolonisation here in Aotearoa and the importance of forming trust and enduring relationships. She also delves into the differing perspectives around community development practice standards and professional qualifications, and what role of CLD has in the community.
One of my favourite sayings has always been, "if you're not living on the edge, you're taking up too much space."
I've loved being part of organisations like Waitakere City Council and Inspiring Communities who intentionally challenged the status quo – working relationally and creatively with others to determine what to do to next, rather than just doing what has traditionally been done.
So with 28 other fabulous Kiwis, I headed up to Darwin to the World Community Development Conference eager to think more about what the conference theme of "being on the edge", and what community, culture and connection looks like from global perspectives.
I was humbled and reminded about what matters on day one, by one of our own keynote speakers Ani Pahuru-Huriwai from Wharekahika in Te Tai Rāwhiti. Persistence, connection to whenua and identity, trust and relationships, thinking intergenerationally, family, heart and hard work, activism and aroha. Take 25 minutes when you can to learn from Ani's story.
The message that Ani and many other indigenous leaders shared over the following days focused on the work we all need to do in community development to better enable indigenous voice and leadership:
Do your homework before you come talk to us – understand Te Tiriti and decolonise
Form enduring relationships, not fleeting ones
Act, just don't extract
Be useful – know what can you bring to the table
Act with compassion and aroha – give of yourself to help Māori achieve… add to our heart, don't give Māori a heart attack!!!
Help us be the ones who lead and decide who, what, why, and how
Look after indigenous intellectual property, take care of how you share it
Listen to your community
When it came to conference conversations around culture and community, I was struck by how far Aotearoa has come in the last decade when it comes to valuing indigenous leadership and world views. While we've still got a long way to go, I do get a sense things have moved from the edge, to being much more mainstream.
In communities right across Aotearoa, I see genuine willingness and commitment to be better Te Tiriti partners, to learn more about our real history, to build authentic relationships, and address inequities that Māori have suffered for far too long. There is a much larger number of people, groups and organisations motivated by the opportunity to learn from, support and work respectfully with Māori, than the small but vocal minority who remain fearful and threatened by what they might lose in the process. As it is with community-led development, there is room for so many and/ands – it doesn't have to be an either/or!
Another big conversation topic that I was drawn into at the Conference was around community development practice standards and professional qualifications. On this one, I felt myself moving back from the global mainstream to the edge! I actively bristled as others talked about professional qualifications being essential for all community workers – with a drive to professionalise both the approach and workforce. While I totally support the need for CLD training and skills development, and would LOVE to see a CLD qualification offered here in Aotearoa (sadly, IC has looked at doing this but the NZQA barriers entry are just too high!), in my mind CLD is the work of everyone, not just paid people called community workers.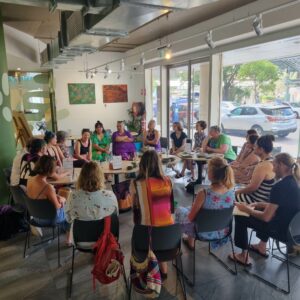 If we see local people as 'agents of change', then setting an expectation that they need a formal qualification to do this work runs counter to validating their key role as experts of their place.
Which reminded me too, it's time Inspiring Communities took another look at the CLD capability framework we developed back in 2018. While we purposefully separated out the different roles that local residents, paid community activators and connections, and enabling organisations play in community-led change, I think it's probably time for a next iteration!
Written by Inspiring Communities CLD Coordination and Practice Lead, Megan Courtney