 Sustainable change through leadership
Sport Waitakere has recently learned and implemented some valuable lessons that have helped them to be more sustainable and work in a more community-led way.
Sport Waitakere's purpose is simple – to make a positive impact on West Auckland residents and their lives through sport and recreation. Since 1991, Sport Waitakere has been working within the boundaries of Auckland Council's three local boards: Whau, Waitakere Ranges and Henderson/Massey. It's a diverse and complex environment to manage, especially given that at any one time they can have more than 60 projects on the go.
Sport Waitakere has recently learned and implemented some valuable lessons that have helped them to be more sustainable.
Grow from shared local visions
When Sport Waitakere community broker Antonia Vai took it upon herself to do things a little differently in the Waitakere Ranges Local Board area, things quickly started to change.
Jasmine Graham, from Sport Waitakere, explains: "Antonia was quick to understand the importance of bringing local organisations together to support the opportunities within that community, allowing the people of that community to be the experts and providing a platform for local champions to thrive".
As an example, Sunvue Park in Glen Eden was equipped with a basketball hoop and playground equipment. However, not many people were using the park, so Antonia decided to find out why. By mapping what was already happening in the area and engaging locals, it was quickly established that a volleyball net would have been a better investment. Through her ongoing networking with other agencies in the area, Antonia found out that a local community hub was getting rid of a volleyball net. It was an easy fix.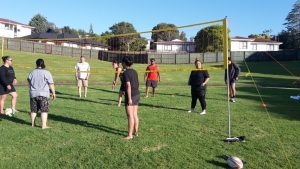 Lack of shade also impacted on use of the space during the warmer months. After a few meetings with Auckland Council and Waitakere Ranges Local Board and with the support of Healthy Families Waitakere, more trees were soon planted.
A relationship with Inspiring Communities was already underway which helped Sport Waitakere to understand a community-led development approach. Furthermore, once an understanding of this level of community engagement was put into action, Sport Waitakere started to evolve all its operations to a more community friendly approach.
"What Antonia did was pretty special," Jasmine says. "By getting back to the basics and simply asking the community what they wanted in their park we realised the assumptions on the way spaces were being used were not entirely true".
Learn by doing
Jasmine says the very first value of Sport Waitakere was "lead from the front" which resulted in engagement with and providing solutions for the community. She says "we'd offer advice, expertise and leadership to our community" which was well intentioned, but didn't work so well in terms of having a "sustainable impact within our community".
Better-used park spaces and greater care of the environment were some of the results from this new way of working. This quickly attracted attention from local board funders and changes were made to the Community Broker contracts to reflect this way of working.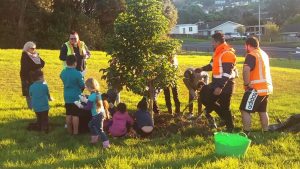 "As community brokers, we are now given freedom to work in a community development framework," Jasmine explains. "We can have open dialogue with local communities, groups and residents on how they use spaces for activities and how we can better support that. It opens up more opportunities to collaborate with existing groups on what is already happening and what's working".
Grow collaborative local leadership
This has also resulted in changes to Sport Waitakere's value statements. "We lead from the front" has been amended to "We build leaders". Leadership needed to happen from within the community by Sport Waitakere working with the community instead of for them.
Jasmine says the changes from inside and outside the organisation are a lot more sustainable compared to how things have been in the past and that changing from "an asset-based perspective" to one of "championing local leaders" drives a greater change within the community.
Work with diverse people and sectors
Support for implementing these changes has come from many groups, including Inspiring Communities. Jasmine says the organisation still has "much to learn and improve on" and is looking forward to ongoing support as the journey continues.