Hosted by Inspiring Communities – this March 2020 event will blend local and national experience and practice with insights from our team and visiting Canadian community innovation experts Mark Cabaj, Liz Weaver and Jamie Gamble.
Whether you are working to transform policy, accelerate systems change, drive local partnerships or activate on the frontline – Co-Matters is the place to connect, share insights on what works and deepen our collective practice.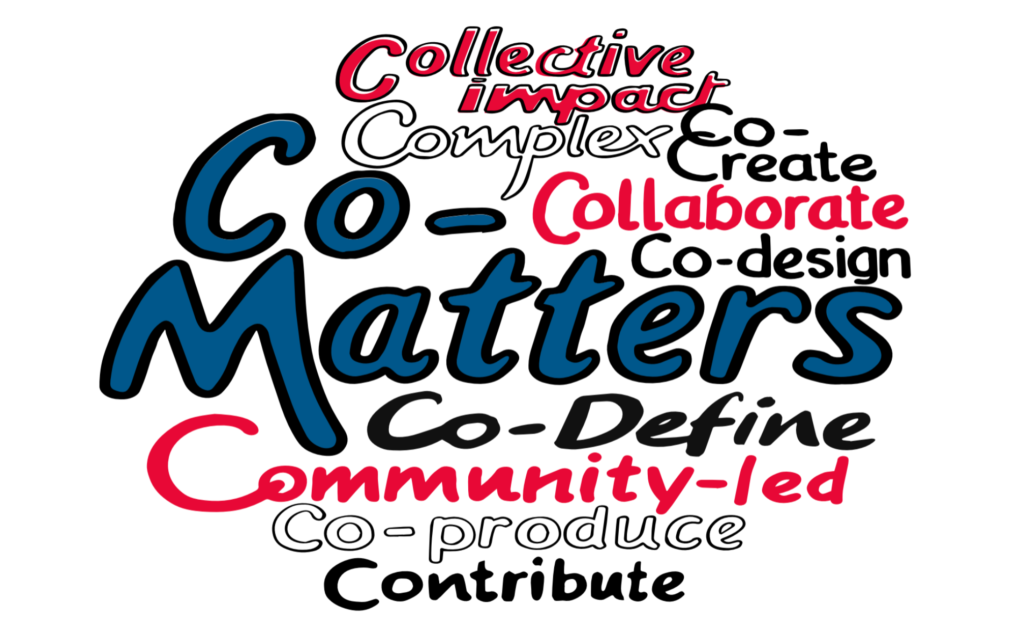 Come along with your colleagues, project, experience, questions and perspectives to deepen your practice.
Learn from the diversity and vitality of community change taking place across New Zealand
Develop your toolkit – best practice principles, methods and tactical tools to support community innovation
Storytelling for change – hear from others working to support systems change, locally-led solutions and collective impact
It is more than simply something to add to your resume. The process is designed to strengthen your CLD practice and outcomes for local communities.
---
---
DAY ONE – National Symposium
SCHEDULE: 9:30am-4:00pm
Ka tū, ka ora – stand, grow together, a national symposium on community change
Venue: James Cook Hotel, Wellington
Be inspired by local innovation and collaborative action underway in many sectors and parts of Aotearoa. Reflect on our nation's shift toward wellbeing and how Treaty principles are being applied and embedded to enable transformative change.
Leading international community innovation and change experts – Liz Weaver, Mark Cabaj and Jamie Gamble will add to this kete, sharing powerful tools, frameworks and learning around successful multi-sector, multi-stakeholder change.
Ticket Prices:
– National Symposium $110 + GST for community organisations
– National Symposium $290 + GST for central / local government, private sector and funders
DAY TWO – Interactive Masterclasses
SCHEDULE: 9:30am-4:00pm
The Multi-Level Perspective – Mark Cabaj
Stubborn and complex challenges require change at multiple levels: grass roots innovation, policy change and public awareness.
This Masterclass will outline the pivotal components required for long term change and impact – sharing a sustainability framework that has important implications for the strategy, evaluation and funding of social innovation.

Developmental Evaluation – Principles, Practice and Systems Change – Jamie Gamble, Kate McKegg and Nan Wehipeihana
If innovators and policy makers want to 'move the needle' on complex issues, they must change the systems that hold those complex issues in place. Developmental Evaluation is a fresh approach to evaluating social innovation.
This Masterclass will explore the design, implementation, challenges and solutions of developmental evaluation and systems change.
*PLEASE NOTE: This masterclass is for people who have been part of, or have some experience in, developmental evaluation.

Evolving Collective Impact – Change Across the Ecosystem – Liz Weaver
Collective Impact is a disciplined form of multi-sector collaboration. Learn how different sectors are using Collective Impact as a framework to advance community change and accelerate systems change. This masterclass will also explore the evolving nature o the collective impact framework, effectively engaging both organisational and community perspectives and ensuring they work well together.

NOTE – these masterclasses are full-day masterclasses. Anyone person will not be able to attend more than one masterclass.
Venue: various Wellington CBD locations, TBA

Ticket Prices:
Masterclasses will be $420 +GST per person – discounted to $400 when a team of four or more attend the same masterclass together
Bring along your colleagues or team and apply what you learn directly to your everyday outcomes and deliverables, while taking advantage of the opportunity to connect with other organisations at one of the following three masterclasses.

Attend one or both days.

Group bookings shall receive a discounted rate when securing tickets for multiple peers.
Let's advance New Zealand's community change story together.