 Are you an effective facilitator of community-led development processes? This important skill is often not recognised, formally or informally. However exciting new developments in education now mean a Community-led Development (CLD) Facilitation qualification is possible.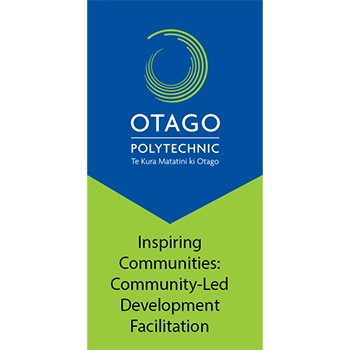 Inspiring Communities is thrilled to bring you a recognised micro-credential that enables you to bring together, reflect on and share all you have learnt about applying community-led development (CLD) in your mahi.
Validate your facilitation experience with a micro-credential
Are you experienced working in community, but lacking formal accreditation of your skills? Inspiring Communities facilitators will support you through the process of validating your knowledge and experience to prepare a portfolio of your community-led work
This micro-credential requires critical reflection, using a case study from your current practice to identify and apply the competencies involved. This is more than just something to add to your resume. This is self-directed learning, but Inspiring Communities facilitators will support you through the process of developing your practice.
Registrations for our 2023 intake have officially closed. To register your interest for this programme in 2024 please fill out this form by clicking the button below or you can email kiaora@inspiringcommunities.org.nz if you have any questions.
What's this all about? What do I need to do, by when? What's the value add?
WHAT PRACTICAL CLD FACILITATION EXPERIENCE WILL I NEED TO TAKE PART?
The micro-credential is for people already working in communities, who have some knowledge and experience in community-led development approaches. You will draw on a situation where you have used your skills to help facilitate a community-led process, hui, meeting or workshop. You will demonstrate your experience of bringing people together, facilitating groups and coordinating local action, while reflecting on your process. The final submission requires you to provide evidence of your process and reflections.
HOW MUCH TIME WILL I NEED TO INVEST?
This is a self-paced qualification guided by facilitated workshops, culminating in your submission within the year of your enrolment. A wide range of resources and tools will support your learning. Past participants have found that around 2 hours a week over a 5 month period is a realistic time to set aside to manage the workload of the micro-credential.
WHAT DOES MY PORTFOLIO OF EVIDENCE NEED TO INCLUDE?
This is equivalent to a level 5 qualification worth 10 credits (a full time year of study is usually 120 credits).
Your final submission will include:
background information about your CLD facilitation experience and current role(s)
a case study for one CLD process you have facilitated
attestations from participants and a peer, mentor, supervisor or manager
supporting documents that provide evidence of your facilitation process, outputs and/or outcomes (for example; agendas, minutes, action plans, community newsletters, reports)
critical reflections of your practice within the context of your case study. These will include learning from the workshops, feedback, and readings
a plan for your future CLD facilitation practice
WHAT COSTS ARE INVOLVED?
The cost of our support package and assessment is $400 plus GST. This includes:
Two 1:1 guidance and planning sessions,
Four learning group facilitated workshops, together with others completing this qualification,
email support for one-off questions over the 6 month period
assessment fee associated with the qualification.
If cost is a barrier for you, consider including this activity within a grant application for professional development support – or talk with us about how we can help.
WHAT SUPPORT CAN I EXPECT?
This is a self-directed learning process, with additional support along the way.
1:1 guidance and planning: an initial 20 minute session to help you to affirm this is the right pathway for you and to set you up for success, and another session along the way to ask questions, check your progress and ensure you're working at your best.
Online workshops to support your learning: Four sessions, every 6 weeks over 5 months. There will be an opportunity each session to check in on how you are going, share successes, challenges, questions and find solutions. There will also be a structured topic introduced on each session:
Wednesday 5 April, 12 – 1.30 pm:
Exploring community-led development frameworks. Tools to further develop your critical reflective practice
Wednesday 17 May, 12 – 1.30 pm:
Exploring the tasks of the micro-credential as they apply to your case study
Wednesday 28 June 12 – 1.30 pm
Sharing progress to date, peer-to-peer feedback and identifying next steps
Wednesday 9 August, 12 – 1.30 pm
Getting to success. Critical reflection to support your completion of the qualification tasks
Registrations for this micro credential for 2023 will be here on our website when available. In the meantime, please sign up to attend our information session.