Noticing change is at the foundation of effective change. CLD is a long term game, and one where rules, models and evidence only take us so far. We are constantly reminded that not everything that counts can be easily measured.
It's therefore important that we embrace a 'learning by doing' approach in order to better understand what works, what doesn't and why. This applied and adaptive learning remains at the heart of CLD.
Sharing diverse examples, stories, ideas and results from community-led activity around Aotearoa serves to strengthen a community's ability to succeed. These examples of learning by doing are intended to support and inspire you to use community-led development to make positive change in your place.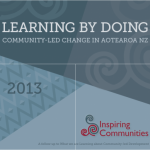 Inspiring Communities has published a comprehensive examination of Community-led development. Aptly named Learning by Doing, it traverses both theory and practice, and is pivotal to any practitioner working in CLD in New Zealand.
Resources