 IC Survey results demonstrate the Influence of IC and CLD
Inspiring Communities has been very influential in changing the thinking about community-led development and being a conduit to innovative ideas and Kiwi practice wisdom.
Survey respondent
Inspiring Communities November survey shows that IC and CLD are highly valued by respondents.
We are encouraged to see our newsletter, hosting international speakers, the resources we produce and the research we share as well as influencing others, our public policy work and Boost Camp all rated highly.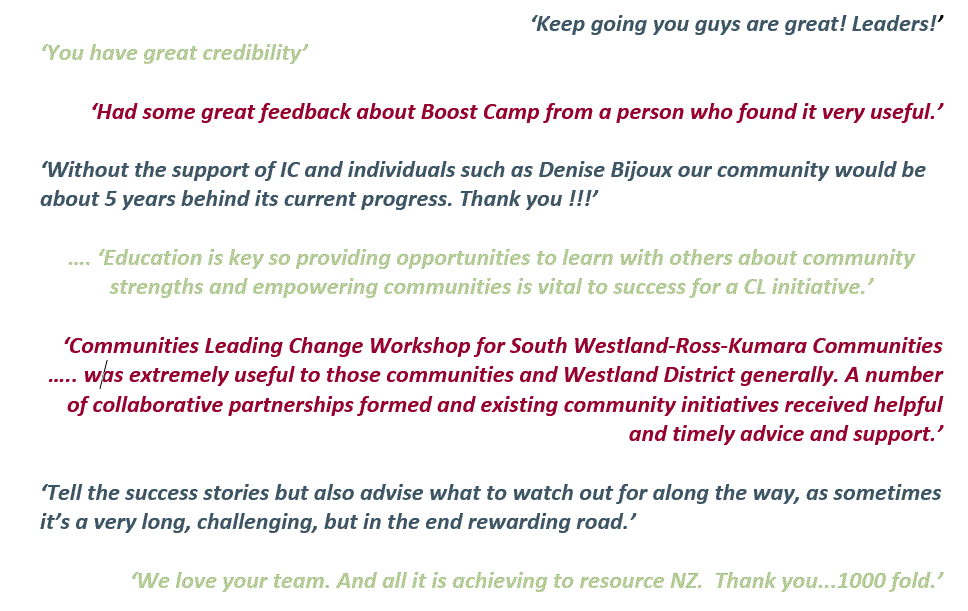 About 2/3 say that Inspiring Communities has contributed to the growing profile and awareness of CLD in NZ and almost 60% say CLD learning tools, stories and tips from Inspiring Communities have helped them in their roles. Over 70% of respondents highly regard our summaries and the 'how to's' of CLD techniques and workshops based on Learning by Doing Chapters.
Comments suggest that Inspiring Communities could make these chapters even more useful by contextualising them via workshops and other presentations as well as sharing via Facebook, Skype and video as these are the most regularly used electronic tools.
Respondents also believe there is more work to be done in educating associated sectors. While definitive that CLD is a game changer, there is concern at a lack of understanding of its true value.
Community-led development is important part of NZ's future (85.17%)
There is a need to strengthen community-leadership in NZ (83.90%)
Local communities really understand their role in supporting local businesses (29.24%)
Local businesses really understand their role in supporting local communities (23.73%)
There is a good understanding of CLD within local government (23.30%)
There is a good understanding of CLD within central government (17.80%)
The team is currently considering the opportunities raised in the survey. The series of training and events outlined later in this newsletter are just some of these initiatives.
Unfortunately there was a technical problem in collating contact details. We have been unable to get in touch with people who signalled an interest in working with us. If you did we would appreciate you contacting us at exchange@inspiringcommunities.org.nz and we will follow up.
Again we would like to thank everyone who took the time to complete this survey, it has certainly given us plenty of valuable information.