Work with diverse people and sectors
Community-led development strengthens the vitality of communities by activating and weaving the contribution of everyone connected to a place/whenua. Use these resources to weave your own connections amongst the diverse of your people and your place.
In Aotearoa, Te Tiriti ensures the histories and world views of tāngata whenua shape relationships, actions and outcomes in local communities. Other diverse communities include communities of interest (e.g. sports, environment, online) and communities of identity – ethnic, cultural, LGBTIQA+, youth, disability and more.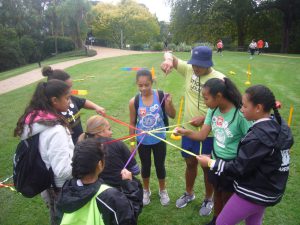 How do we weave connections between diverse people, groups and sectors and make the most of everyone's contributions.
Recognise the two kinds of community expertise:
Context Experts – people with lived experience of a situation, for example, children and youth, whānau, or residents from a neighbourhood. They know from first-hand experience about the opportunities, issues and challenges in their place. Make sure their insights, voices and participation are actively included in local engagement, decision-making and action-taking processes, and you will come up with solutions that are much more likely to last and work.
Content Experts – professionals, staff from community organisations, service providers and leaders with formal power. They have knowledge, tools and resources that can help address opportunities and issues in and with local communities – especially if they understand how to work respectfully as enablers of community-led initiatives.
How do we reach out respectfully to those we may not have connected with before?
Relationship building between tāngata whenua and tāngata Tiriti (all others who have come here) organisations, groups and communities is a core component of CLD in Aotearoa. This resource provides three different tools to support communities in developing relationships with Tangata Whenua.
Read more…
In any outreach, we need to first be clear on our purpose. Do you want to learn more about this community's history, hopes and dreams? Or do you want to engage as a government official, for example? Check out this resource about the public participation process. It's also important to have some ideas about what you want to ask.
Here are other resources developed by Sport NZ and some government agencies on engaging with particular groups. Please share more resources from your community experience and expertise because this is an ongoing learning curve for everyone around diverse needs!
Quick Links
Who do we need to engage with?
Who questions can arise at any stage of your work:
Who should really be involved, and how?
How are we supporting the aspirations of local whanau, hapū and iwi?
How are local residents engaged?
Who has the lived experience of the issues we want to work on?
Are they engaged in the decisions and action?
Who else might support our community-led change efforts?
It helps to let go of your biases about who might help and any 'them and us' thinking. Try to keep an open mind and heart to the many people, groups and sectors who want to grow strong communities.
What kind of working together?
Mā whero, mā pango, ka oti te mahi – by red and by black the work will be completed
The Working Together Continuum helps identify the different kinds of purposeful relationships you might have or could grow. Are you aiming to simply share information so you know what each other is doing? Do you want to cooperate around work on a specific issue? Are you aiming to collaborate around a bigger shared vision or even share power, resources and decision-making in a partnership? Your working relationship may well change over time, but what matters most is being clear about where you are on the continuum at any one time.
You can use the Working Together Continuum worksheet to map out what kind of working together arrangements you or your organisation are currently involved in. What does this raise about how you might work together differently in the future? Or are happy with what you are currently doing?
As relationships develop and informal engagement moves into more significant community engagement and/or working together arrangements, it's important to make sure that the expectations on and of all parties are clear. An explicit conversation about how different parties will engage or work together can help clarify:
Shared purpose/expectations – What do you each hope to achieve?
Key values/principles – What's deeply important to each party about how you work together?
Roles and responsibilities – What will each party offer and be accountable for?
Processes and structures for managing the relationship – How will decisions be made and effective communication be supported? Who has the power to decide what?
Specific engagement and action plans – Who will do what next?
Monitoring and review – How will we check in with each other and notice progress on outcomes and how our relationship commitments are working?
Depending on the kind of relationship, your shared understanding can be expressed through a simple verbal commitment or a more formal written agreement. Here's an in-depth resource on creating partnerships that work. The Treaty Resource Centre has some great resources on our history in Aotearoa and what has and hasn't worked in terms of the "working arrangement" for our nation, te Tiriti o Waitangi.
In community-led development, the best way to know how working relationships are going is to intentionally and openly ask. If you have discussed expectations at the beginning, or even set up a "working together agreement", then this provides an ideal basis for review. When inviting feedback and encouraging constructive dialogue we need to be prepared to honestly and openly listen, reflect, clarify and identify potential changes that could be made. Be sure as well to let those involved know how their input has been acted on. This strengthens trust and respectful relationships for the future.
Here's a great resource if you want to dig deeper into assessing, monitoring and maximising the ongoing effectiveness of any working together arrangement, with a great checklist at the end.
Quick Links