The power of place-based collaboration
Wednesday 19th October – Online Webinar
Tino rangatiratanga means hapū and iwi take a leading role. There are other emerging key ingredients that are enabling collaborative system stewardship and transformation at both local and national levels. We know that when those tasked with making change draw on the assets and strengths already in local places, including strong leadership, trusted relationships and diverse connections, the responses are incredibly successful. United by a common purpose, local places can organise solutions that enable an effective whole of systems response.
There's growing respect for – and confidence within – local communities, hapū and iwi, who've shown how effectively they partner in social, environmental, and economic change. Embedding these ways of working into 'business as usual' will result in more effective responses to ongoing challenges.
In this webinar, we looked back to look forwards. By discussing how Māori customary tikanga and privilege can be recognised and not confined to the marae or alienated from the activities of everyday life and the highly relevant lessons learned over the past two years and articulated in Shaping the Future.
We explored some of the what – but more importantly how – to shift from the rhetoric of engaging with communities and Māori to applying an indigenous lens and community-led focus. Hosted by Christina Howard, and featuring Megan Courtney from Inspiring Communities, Anna Powell from Collaboration for Impact and Victor Walker, Te Aitanga-a-Hauiti, the discussion focuses on insights and tools here in Aotearoa and further afield to the learning and mahi in Australia and beyond.
Locally-led Matters – Harnessing the power of collaborative local leadership
The current Local Governance Review process provides an opportunity to think beyond current Council structures and mechanics. It's an invitation to explore new roles and opportunities for joining up to make the most of everyone's contributions to their local place.
Some questions:
What's the role of active citizenship? How do we move on from Councils decision making processes being more than just effective engagement to citizens and communities becoming wellbeing partners with Council?
How can the principle of decentralisation also be embedded into the framing and approach of local government? It's not just about power moving out of Wellington!
What new roles for local government in strategic convening and facilitation?
Where are bright spots in collaborative local governance happening now? What are we learning so far? How can we spark more experimentation to see what else might work?

Megan Courtney of Inspiring Communities wrote about the 'How not the Who' when contributing to this journal article written 3 years ago. While this was well before the present Local Government review got underway the HOW remains very relevant, and if we could be so bold, contains valuable insights into the present debate – well worth a read.
Embracing Te Tiriti, Fostering Community
---
Exciting seismic shifts are happening in New Zealand's cultural political landscape. The regular use of Te Reo, recognition of Te Ao Māori, and a growing understanding of Te Tiriti o Waitangi demonstrate a movement with the potential to radically re-orientate New Zealand to be a better place for all.
Community-led development (CLD) is one strand that can support this movement achieve effective and lasting change. Facilitated by Christina Howard, joined by David Hanna, Whananaki's Pam Armstrong, Jo Brand from Te Rūnanga o Hokonui, and Tony Kake from Papakura Marae, this kōrero was just the beginning of sharing knowledge and experiences that enrichen community practice for us all.
We discussed the strengths of community-led development (CLD) and honouring Te Tiriti and Mātauranga Māori. How the strands that each hold are sometimes weaved together while at other times they can sit in parallel or alongside in place.
Every place and context is different. Based loosely on this article by Inspiring Communities' David Hanna, alongside a piece from Pam Armstrong, the Strength of Whananaki, the webinar was a rich kōrero discussing practical examples, applying principles, progressing shared visions, using mechanisms such as mana enhancing agreements and determining each party's contributions in this conversation, to help to build understanding of the concepts and practices that support strengthening Te Tiriti and CLD mahi.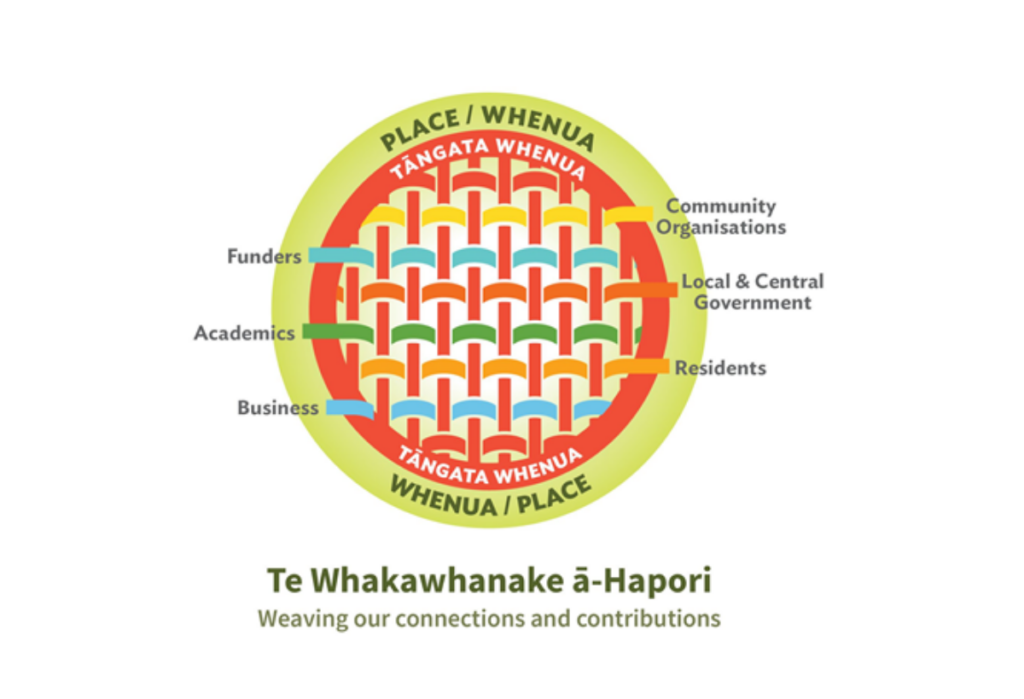 Shaping the Future
During this rich interactive kōrero, we presented our newly released report, Shaping the Future.
This webinar discussed the report's insights, implications, and recommendations drawn from the nearly 70 individuals and organisations we spoke with in May and June 2020. The report includes the local, regional, and national systems changes needed to support and strengthen community resilience in Aotearoa.
We offer this report as one of the many feathers needed for all places and people in Aotearoa to fly.
Little Engines that Can
Little Engines that Can – Local communities powering up Aotearoa.
With a focus on the Eastern Bay of Plenty's experiences, this webinar explored some key elements and frameworks for getting traction across neighbouring communities to create shared visions and agendas, build community and social capital, and attract government co-investment into Iwi, Māori, and community-led projects.  
This webinar covered:
Listen to Inspiring Communities' Barbara MacLennan – David Cunliffe, Arihia Tuoro (Te Whakatōhea) – an experienced project manager and governor of Māori entities – and Aileen Lawrie, Chief Executive of Ōpōtiki District Council. These local leaders are among those who have helped drive local and regional progress through determined and disciplined cross-sector teamwork, and attention to shaping both economic and social development.
Included in this webinar was the story of Kawerau. You can watch this short 'Our Inspiring Story' video in the link provided below.
From Response to Recovery
Watch social innovation and systems-change pioneers Kate Cherrington, David Wilson and Inspiring Communities' David Hanna in this rich kōrero into how we can shape a progressive future, together.
This webinar covered:
How crisis fosters unity – what is happening at a local level (economic, social, health and environment)
Weaving our strengths – leadership and strength-based frameworks and models
Sharing power and taking risks – widening our gaze across local, regional, national, social and economic development~
Moulding our new future – progressive systems, amplifying Te Tiriti partnerships, and building a new eco-system
A rich panel discussion and interactive Q+A
Community Innovation Insights during COVID-19
As we navigate the rapidly changing world around us let's catch a breath and take time to look at how we can apply what we've learned from community innovation approaches.
Listen as Inspiring Communities and Community Innovation experts Liz Weaver, Mark Cabaj and Jamie Gamble engage in a thought-provoking hour of insights and tools to keep at the cutting edge of our community-change kete.
This webinar covered:
Adaptive leadership and collaborating effectively amidst the chaos navigating complex systems to work in a multi-level way 
Applying a learning lens and noticing change in this rapidly changing situation
What we should consider doing more and less of to help our communities get through this together.
Connecting up Government – Building Local – Predator Free NZ
Making shifts to the system – weaving our connections up, down and across.
In this webinar, we unpacked new ways of approaching governance and action planning to tackle ambitious goals. Learn how guiding principles and a values-led approach helps navigate diversity and complexity to help push through the hard stuff.
Using Predator Free New Zealand 2050 as our case study, we shone a light on this leading example of how to decentralise funding, process and power, and how a collective participatory approach across local, regional and national systems is enabling doing things differently.
Take away how working in this way can be applied across other sectors and initiatives – including social, economic and cultural.
Power and Participation
Power. It is often the biggest elephant in the room and we need to be able talk about it. Who's got it, who hasn't, and how do we use it to authentically enable more inclusive engagement, participation, and action.
This webinar traversed some of the big issues related to power and participation and shared two different examples of communities actively finding new ways to bring local voices and community solutions forward.
Hosted by Denise Bijoux from Inspiring Communities, with panelists David Hanna – Inspiring Communities, Lizzie Makalio – Wesley Community Action and Angie Tangaere – The Southern Initiative.
Strengthening Our Villages
Community-led action plays a critical role in enabling wellbeing and helping make Aotearoa the best place in the world for children and young people, alongside appropriate support services.
Working in authentic, participatory and innovative ways many locally-led initiatives are weave these multiple strands so their village is better able to nurture and support their own.
Decades of international research and indigenous wisdom tells us that positive outcomes for children, families, whānau and communities are interconnected.
This webinar leant back to the old adage that "it takes a village to raise a child" and explores examples of how communities are building connectedness, mobilising resources to support local children, growing local leadership and stronger parenting support systems and enabling 'child rich' communities along the way.