 When a community works together, anything is possible.
You might be already working in a role that's already got great connections into your community's infrastructure. But are you wanting to learn from people who have had success with their own lead-by-example initiative? Below is a list of some ideas, case studies and reports that aim to really help solidify your thinking in this space.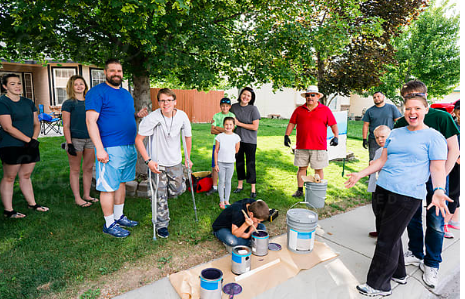 Take action on bigger community-led initiatives.
Community engagement initiatives for groups
Running a community garden
Great learnings from Mataura's experience early on and a more recent update on how their community garden is part of a bigger community transformation
A guide to starting a community garden from Christchurch. Remember every initiative is different. Decide what ideas are useful for you, rather than treating other projects as templates you have to follow. Check out your local area for others running community gardens and see what support your local authorities offer.
Running community dinners and kai sharing
Community newsletters and their influence on wider community action
Te Kowhai is a small village with a big vision. Their community newsletter played a key part in connecting people and possibilities into projects.
On a smaller scale, see what we can learn from one person starting a community newsletter and what evolved from that.
How to create a Timebank
Thanks Project Lyttleton for sharing your learning about a great way to engage a community's strengths and skills in a powerful alternative economy.
How to set up a Repair Café
Here are some practical resources from Auckland and a story about connecting communities one repair at a time.
Communities shaping fun, creative community bumping places and spaces
Environment, Conservation and Sustainability action
Halo Whakatāne is taking conservation to another level, creating a sanctuary for the whole community, beyond their initial success with a Kiwi project.
Read how one person started the first predator free community in a built up residential area in Aotearoa by bringing the community together around a common goal.
Grey Lynn Transition Town's initiatives have a proud history of change over the last decade that we can all learn from.