 Reflections on Community Change
TWO COUNTRIES, TWO PERSPECTIVES, ONE VISION FOR MOVING FORWARD
A paper co-authored by Megan Courtney, Inspiring Communities and Liz Weaver and Sylvia Cheuy, Tamarack Institute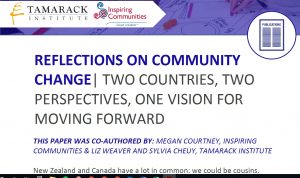 In 2018, Inspiring Communities and the Tamarack Institute in Canada celebrated 25 collective years of supporting community changemakers.
Over the years the two organisations have kept in touch through the exchange of ideas, people, and projects. While we have forged different paths, our shared journey is similar and crosses often.
To mark these mutual anniversaries, we decided to collaborate on a paper and a webinar to explore the following four themes:
The frameworks each organisation deploys to drive forward change
The importance the authentic engagement of citizens plays
The need for adaptive and flexible leadership in community change
The emergence of community-based innovation

The paper concludes with a shared vision for the future.
—–
Read the paper
Reflections on Community Change
—–
Watch the webinar
Megan Courtney and Liz Weaver reflect on 25 years of collective wisdom in community change from Canada to New Zealand. Based on their experiences, you'll hear about some of the most important shifts in the community change landscape and what that means for your own initiatives. Most importantly, Megan and Liz provide insight into challenges, themes, and principles that they believe will affect the next decade of community change work. Watch the webinar.
—–
Learn more about the Tamarack Institute here.