What is community-led development?
Community-led development strengthens the vitality of communities by activating and weaving the contribution of everyone connected to a place/whenua.
Te Whakawhanake ā-Hapori ki Aotearoa. Community-led Development in Aotearoa.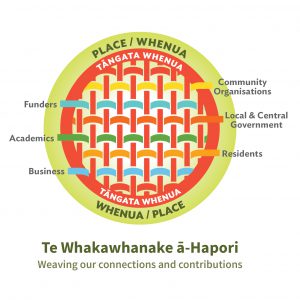 Community-led development (CLD) happens when a community comes together to achieve a shared vision.

CLD is a planning and development approach that:
is based on a set of core principles that sets vision and priorities by the people who live in that geographic community
puts local voices in the lead
builds on local strengths (rather than focusing on problems)
collaborates across sectors
is intentional and adaptable
works to achieve systemic change not just short-term projects
The Theory of Change
Community-led development strengthens social connections so communities thrive. Inspiring Communities offers services that help accelerate change. Our theory of change illustrates how sustainable change happens using a Community-led Development approach.

In this awesome video, people in the field describe what CLD means to them.

What does community-led development look like?
CLD has a focus on communities of place. Place is a useful organising platform for community strengthening as those who live, work, play, care, invest or connect to a particular place tend to have a shared vested interest in making things even better. 'Place' can be seen to cut across many aspects of community.
Community-led development is not a silver bullet or a stand-alone approach. The greatest gains are likely to be made when combined with other strategies (such as local economic development, social development, service coordination, environmental restoration) and integrated into core practice within different sectors.
CLD principles influence HOW things happen and WHO's involved. They can be applied to enable creation of new community plans but also to the delivery of diverse projects like skate parks, clean rivers, pedestrian crossings and warmer homes. Working in community-led ways brings confidence and empowerment for people, groups and communities. And it means improved relationships, wider engagement and genuine co-creation in positive projects, services and processes that matter locally. Evidence that our collaborative capacity and competency has expanded massively; that we can work together to achieve the kind of community that we want.