 Using 'It's not OK' at Rugby League
We wanted to address a number of incidents that were taking place during the games. Often not from our team but none the less change was needed.
By He Tauaa Rugby League Club Acting President Fipe Fa'amoe.
The situation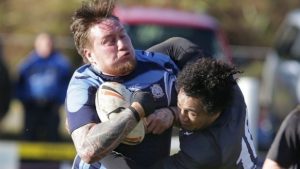 He Tauaa Rugby League club in Southland has been around since 1983. "He Tauaa" to the old Maori people, means, 'A well drilled and organised war party of men, who would raid other tribes to show their strength and bring back the spoils.'
We are doing well on the field – most recently and what may be our greatest achievement – is winning the Southland Championship back to back four years running.
Being well drilled and organised, can only come from hard training, connectedness between all members and providing an environment that encourages positive behaviour.
We wanted to address a number of incidents that were taking place during the games. Back chatting to the referees, abusive comments from the side line towards players and bad attitudes. Often not from our team but none the less change was needed.
So when the opportunity to be part of the New Zealand Rugby League (NZRL) "It's more than a Game" initiative, which promotes healthy living, positive behaviour and building stronger individuals, families and communities – we jumped at the chance.
What's happening
We became the Southland Champion Club for the 'It's Not Ok' initiative for 2016. An informative day with stall holders and guest speakers providing vital information.
Banners and flags supporting the campaign have flown freely at the games. Two club members volunteered to be our Club Champions, when there was inappropriate side-line behaviour they approached the players and supporters concerned and asked them to calm down and be more positive. The odd negative comment is quickly stamped on. The coaching team play a big role as they continually drive into the players that they need to display a good attitude and positive behaviour. This occurs at training, before and during their games. If there are any issues that require intervention, these are discussed and dealt with by our Committee.
One of our Club Champions Chris Perriam has been involved in rugby league for 29 years – 23 of them with He Tauaa. He says it's been an honour and a privilege to represent the club as one of the Champions.
"This has been the only campaign that the Southland Rugby League community has been able to get behind that effects nearly all of us.
Growing up, family violence was a common occurrence in our house so to be a club champion was something close to the heart. I put my hand up because I know we all have our struggles in life, but there are people who can help; people who you can talk too if it is easier than talking to those closest to you. This campaign was more about letting the community know we care and to let them know that help is as close as they might think."
The change we've noticed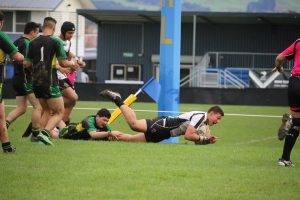 The back chatting from our team on the field this season has notably reduced in our club and side line behaviour has improved. This has been noticed by our supporters and members from other clubs. Support for this initiative has been amazing. Our players, their families, friends, Southern Zone Rugby League, our sponsors and members of the Family Violence team all attended the launch.
What enabled change?
One of the club champions Leona Notoa says that small things like flags, posters and tee shirts have been a constant reminder to people. Being part of the campaign meant people felt more confident to yell out and stop anything that was negative or unnecessary – referring to the slogan, "It's not OK. Although there is still the constant banter between teams and spectators the reminder was looming and it sparked conversations.
What we've learned
The strength of our club is that we are whanau orientated and supportive of each other. We understand that each of us have a role to play to ensure that we are successful on and off the field. If we can continue with a positive attitude, this filters to our members and their families.
What's next
We have certainly got off to a good start as the club won the 2016 NZRL Grassroots club of the year award for our work with the It's Not OK campaign – we are all stoked!
We have connected with a local musician who has agreed to create a song and music specific to He Tauaa. We are hoping that the song will be ready early next year when we hold our next big event for the it not ok campaign.
Chris has produced a video: