 We have to keep knitting across local silos, which is best done by doing some small things together – from there, trust and confidence grows.
Megan Courtney is passionate about making changes that devolve power and support communities to be part of designing and delivering wellbeing, in place. And so is taking a keen interest in the current Local Government Review process, recently contributing to a Local Government NZ webinar on wellbeing.
With a lens of place based, community-led development, she shares her perspective on what is happening in this space, how the reforms can support TRUE collaboration – sharing power and resources to best fit the needs and aspirations of the people in each place.
I totally support local government having a stronger role in wellbeing – in fact it's essential.
But I don't automatically equate 'greater local government delivery of wellbeing functions and services' – with local government doing or providing more services.
What I'm proposing here are small, intentional steps to better enable local wellbeing outcomes.
I'd love to see a new wellbeing development grant offered – say $150k to every Council (which they'd match from their own funds, or a proportion there of) to support development of local wellbeing action plan and processes – that would be supported improved capability and capacity in local councils as mentioned earlier.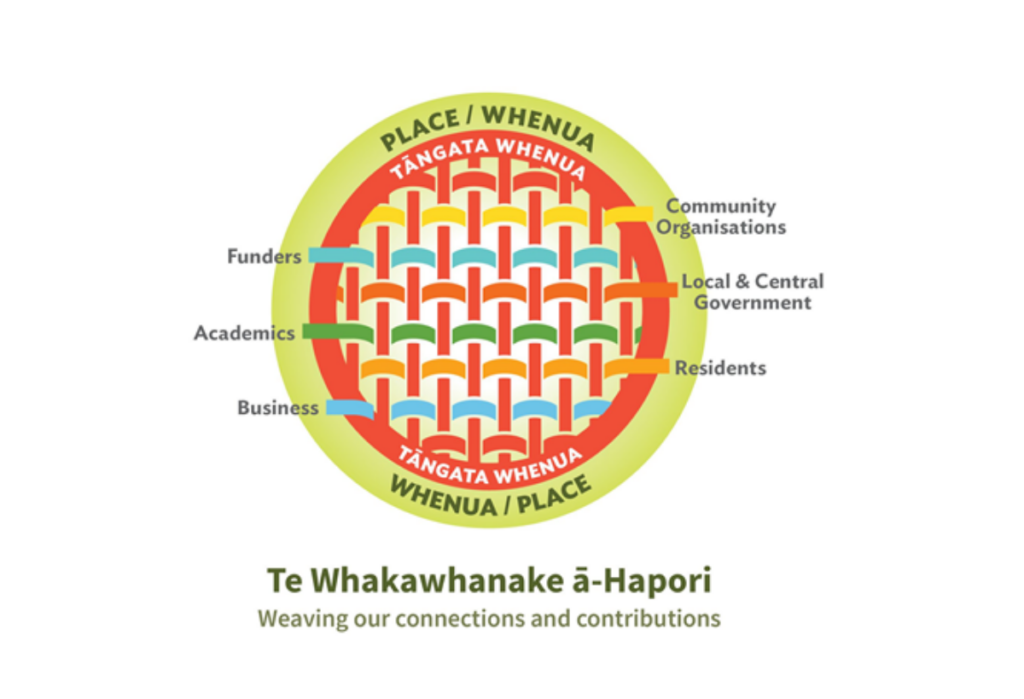 The first task would be to bring people together to collectively gather local aspirations, priorities and sources for investment and effort. We need to bring all the wellbeings (social, economic, environmental and cultural) to the table. Lots of this information already exists and working out what the next phase of each local collaborative process might look like, needs to build on the strengths in places. Think Local Wellbeing Summits – that go on to catalyse and support new local action, with people coming back together to reflect, learn, share and determine next steps at regular intervals.
In many places, including my own in Nelson Tasman, I observe that economic development plans and networks continue to sit separately to social development, environment and climate aspirations and plans. We have to keep knitting across local silos, which is best done by doing some small things together – from there, trust and confidence grows.
No doubt districts, cities and regions need some flexible putea to try new things, as well as mandate and support to do some things differently. Within this, finding ways to resource and strengthen whanau, hapu, iwi and community leadership and participation is critical. There is a need to build community capacity in many places across the motu before organisations like Councils can partner with them.
Let's also wrap strategic learning and facilitation support around a new wellbeing approach so that Councils and local partners have a pool of potential people, tools and resources to support them in this journey. Let's document and share everyone's learning by doing so we can adapt things in real time as we see what's works, how and why. This process for me, is significant to enabling broader systemic change and will be key in enabling wellbeing processes to be more than 'one offs'. It's mindsets we need to change, as well as practices, investment approaches and collaboration cultures. It's no accident that Australia is moving to set up a new federally funded national centre to support place-based collaboration.
In some places, it may be that new wellbeing planning processes have to start from scratch – but in other communities, it might be a matter of bringing together existing leadership tables and plans – for example in education, safety, iwi development, social and community services, violence prevention, regional tourism, climate change – and co-deciding next steps from there.
We also need to also think more laterally across the wider pool of wellbeing investors, beyond just tax or rate funding to community trusts, foundations, philanthropy, locally funded bonds too.
In Aotearoa, there's huge untapped capacity in communities to support wellbeing. Collectively we've bought beaches, in Invercargill they're building an amazing new charity hospital, Acorn Community Foundation in Tauranga has $41m in funds for local reinvestment and local farmers in the Hauraki District where I'm from, have purchased two multi-million-dollar farms to support farming employment pathways for rangatahi and to ensure the local high school has all the resources it needs.
As part of rethinking wellbeing collaboration, we also need to look at international best practice in collaborative governance. Putting it plainly, top-down governance models which continue to frame a lot of local government affairs, just don't fit new collaborative contexts.
So what's emerging in terms of best practice? The focus of senior leadership tables isn't on detailed decision making – it's more about system stewardship and oversight, with leadership devolved or distributed to collaborative action groups. These collaborative action groups are also supported by dedicated coordination and communications resource so that things are integrated and joined up. Moving forward then, elected members need to be up for some new ways of working and being too.
The future for wellbeing needs to be framed within a collective lens – a local systems approach – where everyone has something to contribute to activate positive change. This includes local government, alongside communities and iwi too. The last thing I want to see is big central government replaced by big local government. If we're seriously talking about decentralisation and distributed wellbeing leadership, we need to see who else within the local system could take on more, and what kind of extra support they might need to do that effectively.
If we want iwi and wider communities to be partners and active participants in wellbeing – central and local government partners need to be prepared to give up some power, sit in discomfort and work things out together. It will be messy and challenging, but it's work that needs to be done. And done well, with the right relationships in place, then the possibilities for wellbeing really are as wide open as our collective imaginations.