 Harvesting locally-led leadership and insights to strengthen community wellbeing
The Covid-19 Crisis has again sparked discussion about doing things differently so that our communities and country are more resilient. Harvesting and sharing community-led knowledge is a core function of Inspiring Communities. During May and June, we are talking to a selection of CLD and sector leaders with an interest in CLD.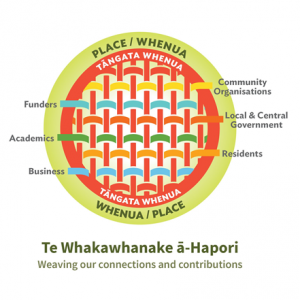 Community-led development (CLD) strengthens communities by activating and weaving the wisdom and contribution of everyone connected to a place/whenua.
From this, we will frame a Community-Led Insights Report with key recommendations, and practical suggestions for how our local, regional and national systems can more effectively support and enable community wellbeing.
As a heads up, here are our key planks that should be prioritised to nudge the layers – shifting the system towards transformation. Of course, community-led change is not a quick fix, it's a long-term game!
The change required to enable CLD in post-Covid Aotearoa
People first. Value and invest in effective relationships. It is people, connections and trust that make things happen.
Invest. Fund locally-led action. Support processes and capability building that grows local capacity.
Decentralise. Provide flexible funding and decision-making processes at regional and local government levels where iwi and communities are at the table not just being consulted.
Embed and evaluate. Include the 4 wellbeings (social, economic, environmental and cultural) in all recovery-focused initiatives. Report their outcomes. What we focus on grows.
Build Social Capital. Understand the power and potential of relationships, leadership and action at an individual, neighbourhood, and rural scale.
Be courageous. Mandate innovation and learning. Complex challenges require creative responses to see what works. Be responsive to change, test and adapt.
Collaborate. Partner with others, maximise resource and reduce risk.
Three initiatives Inspiring Communities put forward for government consideration
A Community Resilience Fund to invest in locally-led community resilience planning and action. The fund leverages contributions from local government, other philanthropic funders, iwi, local businesses and local communities. Explore relationships with existing Provincial Growth Partnership and other Government investments.
Decentralised Innovation Seed Funding to catalyse community enterprise and resilience activities. Enable regional managers of relevant government agencies (DIA, MPI, MSD, MoE, OT) to make immediate small investment calls (up to $5k) to support promising, early-stage, local initiatives focused on building social capital, community enterprise, and resilience activities.
A cross-agency CLD training and support programme. Provide officials across central and local government agencies with the know-how to support community-led action.
These initiatives integrate community wellbeing and facilitate Government to work more effectively with communities. The principles of Te Whakawhanake ā-Hapori ki Aotearoa, Community-led Development in Aotearoa help navigate how this can be achieved.